Buck Daemon is a great new find for CD247. He is a 21 year old junior with a bit of a wild side.
He has a great body and strong legs from all the rugby playing he does at school, his dick is hard as a brick, and his butt looks delicious. Buck had absolutely zero nervousness before he threw his clothes off and got into jerking it, and even when he gets on all fours and shows us his beautiful ass, he has great charisma. Buck lubes up his dick a lot in this vid – he mentioned later that he really like getting his dick glistening for the fans. When he flips over onto the chair to finish off, he starts jerking it extremely hard and fast, and his face is in ecstasy as he blows a huge wad all over his hot pecs and tight abs.
Short preview video: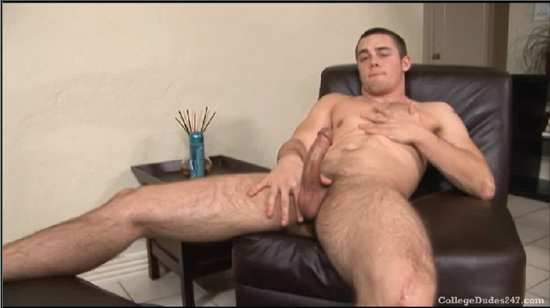 Buck is a typical bad straight boy, I love how he shows off his body and his nice hard straight cock. I think he has a very nice career in porn ahead of him, if he chooses to pursue it.