The last time we saw Robert he was flexing his muscles after coming home from a nearby luxury beach. And he was fully erect during the entire shoot, which I found to be a major turn-on for me (besides the sunglasses on a guy!).
I just had to repeat the shoot with Robert, his erect and stiff cock is just too exciting and the whole thing is just so dirty and full of his macho but relaxed attitude.
To make the picture even more complete, Robert put some earbuds into his ears and started to move his hips to the beat of music. Again, his cock was fully hard and pointing to the sky all the time!
If looking at cocky, handsome men who like strut their stuff and walk with a major hard-on all the time without touching their dick is your idea of hot fun, then this superhot video is just what the doctor ordered!
Short preview video: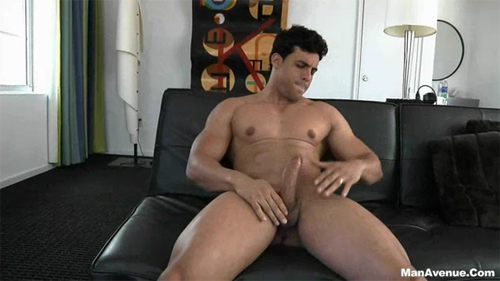 Click here to watch his entire fucking video in perfect HD quality at Manavenue!
Manavenue is an exceptionally good porn website that features masculine, cocky, muscled, powerful straight men, the type of guys that grab your attention while you're secretly ogling them in the street or in a supermarket. These tough motherfuckers are aware of their sexual appeal and want to show you everything they've got.