Dominants Masters are in the mood for some nasty and cruel games today. They are in their daily inspection in the local barracks, watching whether the soldiers there are obedient and submissive enough.
The Masters think that it's high time they played the game of soggy biscuit. Namely, all three men who participate in the game will cum onto the biscuit and the soldier who is getting disciplined will have to eat the cum-drenched biscuit.
First the Masters bully the soldier and make him play with himself. They undress him until he is completely naked so that they can see his perfectly muscled body. Then they push and shove their cocks into his face. The fact that they are abusing and torturing these young, strong and muscled soldiers makes the Masters exceptionally horny and aroused. It gives them great pleasure to know that these aggressive uniformed men will have to obey their commands.
The soldier who was getting disciplined was eventually forced to eat the biscuit along with the sperm of the other soldiers. This helps maintain discipline and remind the soldiers that there is always a higher authority above them.
Short preview video: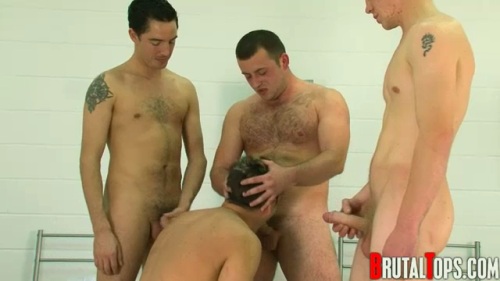 Download this and many other horny new BDSM videos at BrutalTops!
Brutal Tops is a fantastic site for lovers of the most ferocious sexually aggressive doms in the world. These dominant men love to give orders which have to be obeyed!