by Ben Daniels (Admin) on Aug.20, 2017, under New York Straight Men
Here's another classic blowjob video from NYSM's archives… it was shot back in 2012 and it features superhot Serbian straight man Srdjan. Srdjan was born in Serbia but he moved to NYC some ten years ago and he loves his new home. He works as a bartender and he has a girlfriend with whom he plans to engage soon.
As most Serbian men he is very traditional and being straight he prefers women, but like all men he simply loves blowjobs… sooo… over time he has had a few guys suck his cock and came to the conclusion that guys can usually do a better job at cocksucking, because they know better how to do it properly!
Since this "revelation" about guys and blowjobs, Srdjan doesn't really mind getting his cock blown by guys. NYSM's then resident cocksucker Trey was all too happy to service this sexy macho Serbian stud and quickly fell on his knees and reached for Srdjan's dick. Srdjan was kind but commanding towards Trey and explicitly told him (in his macho Serbian accent) how to suck his cock. Somewhat later Srdjan starts to guide Trey's head onto his dick and face fucks him hard.
The guys changed several positions and finally Srdjan kicked back onto the sofa and while Trey licked his balls he shot a nice big load all over his strong muscular chest.
We've provided an extended video preview for you – check it out, it lasts about 7 minutes and it's very hot.
Click here to watch their entire video in HD quality at New York Straight Men!
New York Straight Men is the world's biggest collection of straight men getting their blowjobs from gay dudes! These men are usually truly straight but they love getting head from a gay guy because it feels so much better than whatever their girlfriends can do. These men are not the Hollywood type cuties, they are Real Men!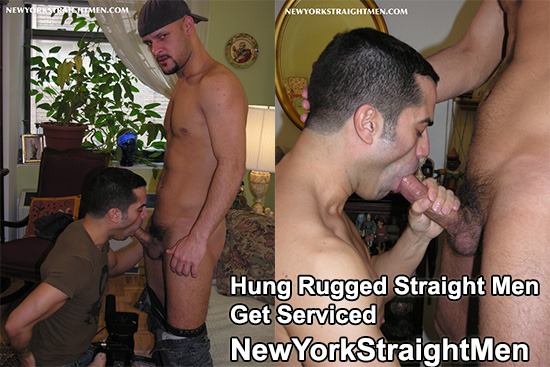 :beard, big cumshot, big dicks, blowjob, deepthroating, Extended Preview Video, handsome, licking balls, muscled, muscles, ripped, Serbian men, Serviced, Srdjan, straight men, Trey