It was somewhere middle of August when Aaron and Seth decided to make another trip to the Rocky Mountains. The mountain in question is by now legendary thanks to great blowjobs and cumshot videos which they often shoot there (check out the previous movies as well).
This time around they brought one of the viewer's favorite straight studs, Walker Micheals. Walker recently got injured while he was playing basketball. He could hardly bend his leg and that only in a couple of positions. So we asked him whether he'd like us to put off this shoot for some other time. He refused any thought of it because he said he really needed to cum, it was high time. Besides, he says, it's an awesome feeling when you feel your jizz shooting into another guy's mouth. He says it gets him excited because it's so dirty, which is of course great for us as well!
Aaron volunteered to be today's cocksucker and they start off outside. It started raining pretty quickly so one part of the shoot was done there in the rain. But a bit later they went into the tent.
Walker really enjoyed this blowjob, it was a long overdue cocksucking session and you can tell by his legendary face expressions that he was in the blowjob heaven!
At one moment Walker gives a warning to Aaron "I'm gonna cum soon!". This made Aaron even more horny and eager to show off his cocksucking skills and he was ready for Walker's load. Pretty soon Walker unleashes his torrent of cum, filling Aaron's mouth and leaving a plenty of messy cum on Aaron's beard and moustache.
Aaron is such a cum slut that he wants to squeeze out every last drop of Walker's cum, so he massages Walker's prostate to make him eject everything. He duly cleaned up Walker's cock so that no drop was left at all!
This was really an exciting and interesting shoot on this mountain which we call Thunder Mountain after this event.
Short preview video: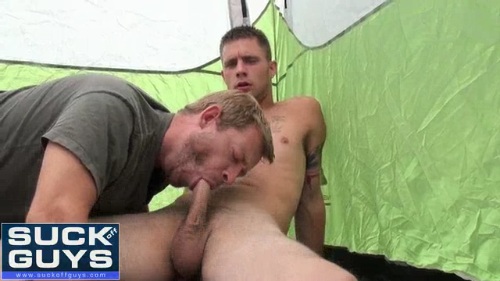 Click here to watch their complete video in perfect HD quality at SUCKOffGUYS!
SUCKOffGUYS is a very interesting and hot gay porn site that focuses on blowjobs, cum eating, cumshots, cum play and all things cum! The site owners are obviously total cum pigs and it shows. Be sure to check them out if you're into beautiful hard cocks, blowing stiff rods and sperm in all varieties.