by Ben Daniels (Admin) on Jul.05, 2014, under SUCKoffGUYS
This big compilation of hot blowjobs and messy cumshots that were taken outside in the forest is just what the doctor ordered! It's available as of the 4th of July, just in time to properly celebrate this holiday with style!
We follow Aaron French, Seth Chase and their buddies as they're strolling through the woods and getting horny every now and then. They stop by a tree or tent and give each other mindblowing blowjobs, then when the guy who gets serviced is about to cum, the cocksucker aims the cock at his mouth attempting to swallow the guy's entire load. So there's a lot of big cocks, messy cumshots and cum eating in this huge compilation (the video lasts 90 minutes and features 26 cumshots!).
When the compilation video starts you're immersed in this beautiful forest that servers as a fantastic backdrop for all the things that come naturally – such as blowjobs. If you're a lover of messy cum facials you'll certainly love this video!
As a bonus, the guys have included several bareback videos with cum swapping fuck scenes as well. You can download this video and keep it for yourself forever.
Click here to watch their complete videos in perfect HD quality at SUCKOffGUYS!
SUCKOffGUYS is a very interesting and hot amateur gay porn site that focuses on blowjobs, cum eating, cumshots, cum play and all things cum! The site owners are obviously total cum pigs and it shows. Be sure to check them out if you're into beautiful hard cocks, blowing stiff rods and sperm in all varieties.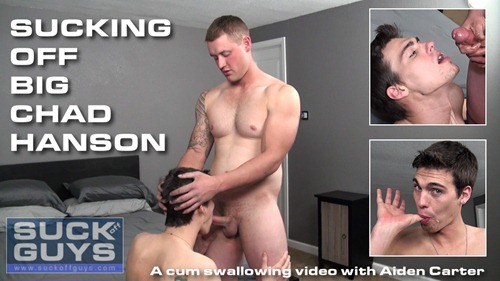 :Aaron French, beard, big cocks, compilation of cumshots, cum eating, Ethan Ever, Evan Parks, facial cumshots, forest, nature, Seth Chase, Walker Michaels