Christopher is a marine who comes from a small town in the midwest. His service in the Marines brought him here. He is actually not enlisted anymore and in the first few days since he left the Marines the first thing he did was to grow a goatee. Duh, of course!
Christopher and I had been in contact even while he was enlisted, but it took some time and pondering for him to decide to come for a jerkoff shoot.
The first thing that he asked was a bit of a shock for me, because I had no idea that he was married.
"Is it okay if my wife gets a copy of the video?" he asked.
"Sure. No problem." I told him. And since he surprised me, I decided to make him a little surprise of my own a bit later.
Christopher was somewhat nervous (like most straight dudes here), but as soon as he whipped his dick out it got hard – in just a few seconds!
He takes pride in the hardness of his cock and tells me that when it gets hard, it stays rock-solid for hours – or as long as necessary to do its job. I couldn't resist measuring his dick with the measuring tape to see just how big it was.
When I took his cock in my hand he didn't recoil, so I took that as a sign that I can proceed to finish him off (my surprise!)
Christopher didn't know that guys can perform a fantastic handjob so his eyes just rolled into the back of his head and he was in Heaven. Soon enough he uttered a groan while stream after stream of hot white cum was shot and flew all the way to the other side of the chair, although most of it ended up on his belly.
Short preview video: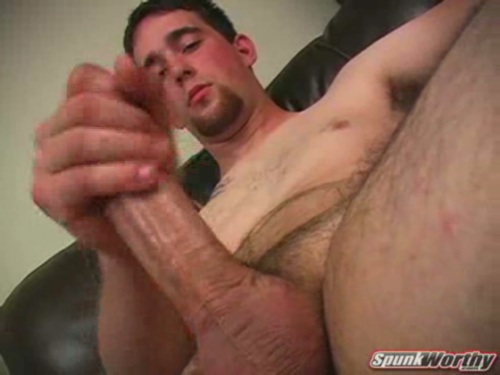 Click here to watch his entire video in perfect HD quality at SpunkWorthy!
SpunkWorthy is a great porn site that features younger straight amateur dudes. Lots of truly straight military guys doing gay for pay only once or a few times! This site is usually the first and only place where you'll see these bad boys, so don't miss out!