by Ben Daniels (Admin) on Jan.28, 2015, under CMNM
Lee Towser is a young and promising footballer. Actually, he's one of the favourite players in Mancastle United Football Club, and the sponsors would like to perform a full physical examination on this manly straight boy. As soon as the examination starts, the clothed men are pleasantly surprised by Lee's manly assets. He's got a hot muscled body which he trains every single day and they conclude that he's now in his best shape ever.
Of course, the clothed pervy men are well aware of the fact that this golden boy is worth millions of pounds. The new owner of the club is a certain Prince called WackiBacki and nobody would like to make him angry. Lee knows that for the good the entire club, as well as for his own good, he'd better let these pervy clothed men touch him and examine his body as much as they want. The pervy men are not gentle, though, and their inquisitive hands find their way to all the interesting parts of Lee's body. They first make him remove his trackies and shorts, then they grope his genitals, and probe his tight ass.
Although quite unpleasant, Lee must submit to these pervy men's will and even allow them to penetrate his virgin ass with their fingers and various objects. These clothed men are very powerful and rich, and although they may not have Lee's youth and beauty, they still do have a lot of power and Lee knows his entire career depends on their goodwill.
Check out these pervy men's wanton adventures in their whole videos in HD quality at CMNM.
Clothed Male / Naked Male (CMNM) is a superhot porn site where Nervous straight guys get stripped naked, groped and violated by fully clothed men.
There's nothing better than stripping straight lads completely nude, putting their bodies on display, and teaching them exactly how to submit! When they are in such a submissive position, one would be crazy not to use the opportunity and jerk them off!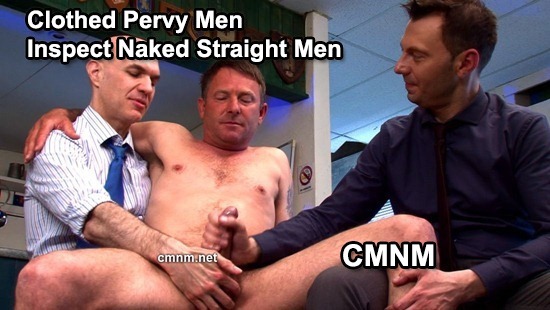 :Clothed Men, footballer, groping balls, groping cock, handsome, Lee, muscled, naked straight men, probing ass, trackies