Clyde is a hot young straight dude and like most first-timers he just wants to Top and he doesn't want to suck dick. We've already seen that. But in time they learn a thing or two!
Clyde wasn't very sure about doing this shoot. He loves banging girls or getting blowjobs from girls, but he couldn't imagine himself with another man.
On the other hand, Solomon has already bottomed and I knew that he'd have no problems accommodating Clyde's huge cock. Actually I wanted this to be the real creampie video. You see, not every creampie is a real creampie. Often guys just cum on the surface of another guy's ass and we call that a creampie, but strictly speaking it's not. Only when a dude cums deep inside an ass or pussy, do we call that a creampie. This is the real deal.
Clyde wasn't very tender while he was fucking Solomon. As for describing his style of fucking, "Jack-hammer" comes to mind. Poor Solomon, he must have been in real pain. But then again, Solomon likes pain. He is a sadomasochist, if you didn't know.
Solomon has made significant progress since his first videos. He can now suck a man's cock even without flavored lube (that was my little secret trick to lure him into blowjobs). It seems he really likes sucking dick now, he had a sort of an epiphany while he was giving head and now he "understands".
I think it also helped that Clyde was in such a great shape. I mean look at him, the guy is bursting with muscles and can crush anything and anyone with his strength. Clyde was hard throughout the shoot and I somehow doubt that this guy's cock ever gets limp. Solomon certainly got the fuck of his life, at the receiving end of that iron-hard rod.
It wasn't easy to decipher whether Solomon was in pain or extreme pleasure. He moans and writhes, but does he like it? Does he enjoy it? I don't know because he also likes pain, so it could be both.
When I lowered the camera on the ground, I could see Solomon tossing and biting the pillows… What could that mean? Ha! Eventually Solomon begins to stroke his own cock and soon enough he shoots his load.
Clyde said he could cum too, if he just continues to fuck Solomon. Not long after that he unloads completely inside Solomon – yep that's a real creampie.
Short preview video: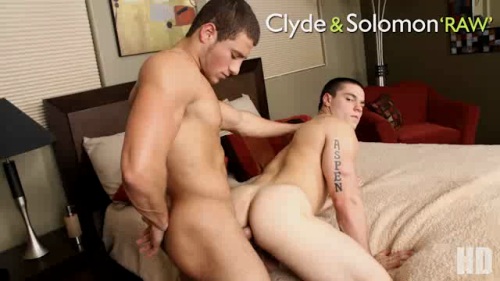 Click here to watch their entire video in perfect HD quality at Chaosmen!
Chaosmen is a great porn site that features hot straight and bi men getting serviced or fucking their mates bareback for some cash. This site is exceptional and very unique because almost every single fucking is bareback and ends with gorgeous internal cumshot or creampie.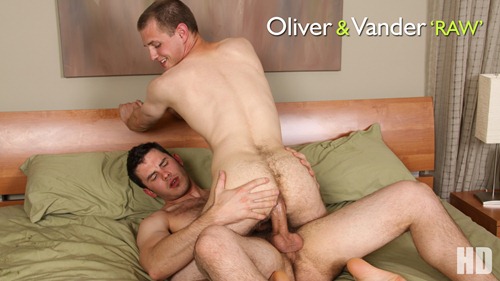 ---