Alex is a handsome and masculine sportsman who works as a salesman in a shop that sells gym gear and accessories. He is 27 years old and in top shape – quite ripped and sexy looking.
While the Keumgay staff were visiting a fitness club, they ran into this hot dude. They waited until he was ready right after having taken a nice shower with the other guys. Obviously, he wasn't bothered to be seen naked by other men, and after all, why should he? He's got a physique that a lot of guys can only dream of having. The Keumgay staff saw him naked and immediately noticed the sizable equipment between his legs!
That's when they proposed Alex to pose naked for their website. He was very hesitant to accept the offer because he had never done anything similar in his life. However, when a bonus massage was offered as well, his attitude changed and he became more willing to consider the proposal.
Although the Keumgay director offered Alex a massage, it would prove later to have been a somewhat difficult task.
He arrived two days after this initial meeting while he was on his lunch break. He said he had one hour at his disposal, but it took them 2 hours to shoot the whole video. He worked that day so he was wearing his official but somewhat also casual outfit.
The video begins with Alex sitting on the sofa while the Keumgay staff is stroking his cock. Alex's reaction to this wasn't so good. He didn't yet realize that the massage had already started with that soft petting part, but in order to avoid any misunderstandings, the director decided not to publish that part.
Alex is a very nice dude, but very suspicious. The director knew he had to watch his language and tactfully talk with Alex so as to avoid any unpleasant situations, such as having him leave the studio abruptly.
The funny thing is, the less clothes he had, the more he enjoyed the massage of his gorgeous muscular chest and his hard stiff dick. The director had some bonus scenes on his mind, but he reckoned they wouldn't be able to make them under the circumstances. However, they liked Alex so much that they couldn't resist going further than the massage.
Three men were stroking Alex's hard cock and massaging his large jock balls. Alex said nothing and didn't protest while the three men were all over his strong chest and fantastic cock with their greedy hands. It was the first time in his life that he was naked in front of the camera, participating in a porno film almost against his will. However, it must be said that, compared to some other of their films, this was mostly a non-sexual massage video.
The horny salesman was enjoying these men's hands on his body so much that he let them suck on his nipples. So, here we have a straight guy who had never tried anything like that, and he was getting the treatment like a King, with 3 guys trying to pleasure him at the same time and to fulfill his every desire.
Alex eventually became relaxed and enjoyed the ride – and he didn't regret it.
He came after 1h and 55 minutes of the massage and various temptations. It is clear that his pleasure is genuine and not simulated. His strong orgasm is the proof of it.
It seems it's not a bad idea to introduce some unplanned and unexpected change in your regular working-sports day!
Preview video: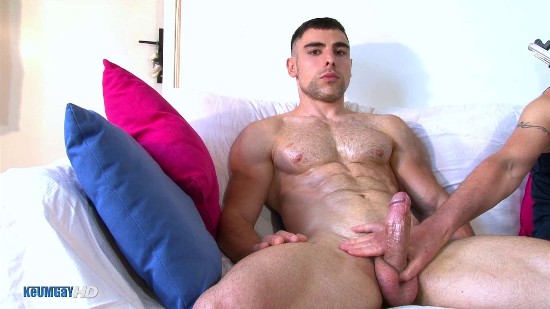 Click here to watch or download their entire video in HD quality at Keumgay.