We often hear the phrase "Taking it like a champ" but it doesn't always apply to the situation at hand. Here, however, it does. Steve Vex is an incredibly masculine man with such sexual stamina and aggressive power it makes him a perfect top. And Scott Campbell is an equally strong and manly man who can take any pounding.
Today Scott will show you that he can take Steve's rough fucking like a man and enjoy it in the process!
The two men start off pretty slowly and the action seems benign, but soon enough the pace changes and you can tell who is going to be in charge!
Steve Vex is an unrelenting fucker and wants to just give it to Scott, while Scott proves to be a real pig and will take anything, from deep throating, face-fucking to receiving Steve's magnificent hard cock balls deep in his ass.
If you like fucking to be rough, sloppy, sweaty and hard then this is the movie for you!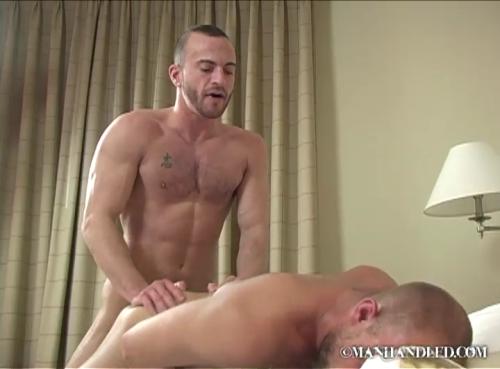 Click here to watch their entire video in HD quality at ManHandled!
ManHandled is a brand new site that features dominant guys forcefully taking their pleasures: face-fucking, gagging, drooling, kissing, rough-play and bondage. Verbal tops keep their submissive bottoms in line, Fucking them hard, playing hard and pushing the limits all the time.