by Ben Daniels (Admin) on Mar.22, 2015, under Chaosmen
Corban has come a long way since he started doing these porn videos. In the past he was very shy and cautious, I remember he was reluctant to even suck Jonas' cock in one of the videos, as it seemed "too gay" for him at the time. Maybe the fact that he was married then and didn't tell about his little porn business to his friends can account for such cautiousness. Anyway, things have changed – for the better! In accordance with his newly discovered bisexual side, he found a boyfriend with whom he's now happier than ever.
Vander was amazed at the sheer forcefulness and energy that came from Corban, too. When we first played Corban's serviced video to Vander, he came to the conclusion that his colleague would be an inexperienced, shy straight dude, but… instead, Corban is now a sex god who wants cock and ass and wants them badly!
I think this was a very good pairing in all respects, both guys have about the same cock size and same physique… and one could say they were a perfect match – but when you add the psychic component of Corban's transformation you get real chemistry. Vander was in total bliss the whole time and enjoyed getting banged thoroughly.
One interesting tidbit of info: Corban has always wanted to fuck a dude on camera, and he prides himself with the ability to fuck slowly and gently, which is fine and many guys love that way. But Vander, being the sex fiend that he is, told Corban that he really liked the down and dirty version and that there's no such thing as "too hard fucking" for him. Well, Corban made an effort and totally ravaged Vander's hole and by all accounts that was a pretty aggressive fuck session.
The only issue that Corban had was a little problem with busting his nut. Namely, although he identifies himself as a total top, it seems that while other guys fucked him he must have gotten used to it and that's the easiest way for him to cum now. Luckily, we had a butt plug at hand and as soon it was inserted into Corban's hungry ass, things went smoothly again.
The little issue with busting the nut notwithstanding, this was a great and passionate video with both guys giving their best and enjoying thoroughly throughout the whole fuck session.
Preview video:


Click here to watch their entire video in HD quality at Chaosmen!
Chaosmen is a great porn site that features hot straight and bi men getting serviced or fucking their mates bareback for some cash. This site is exceptional and very unique because almost every single fucking is bareback and ends with a gorgeous internal cumshot or creampie.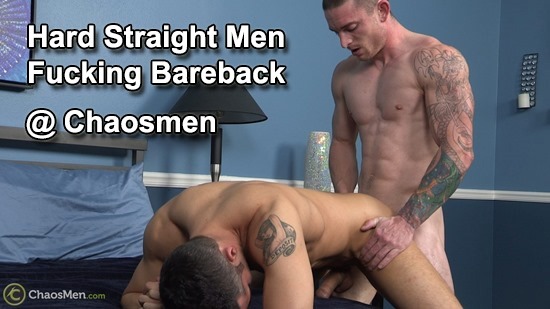 :69, aggressive fucking, bareback fucking, beard, blowjob, fuck the cum out, hairy chest, huge cock, rimming, tattoos, vander