It's always a pleasure when a big, beefy, handsome Texan man comes to pay you a visit. Today we had Keith Reed who came to our Ranch and by gods, that has to be one of the beefiest and hottest bodies I've seen in a long time.
Keith has just finished his work and came straight from his office (hence his office suit and tie). He told us he is 5'11'' tall (180 cm) and I must say that the suit and tie suit him perfectly.
Keith is a straight guy, but he has a little fetish that is not so common – he loves to be told what to do. I can almost bet that that is exactly why he agreed to do a porn shoot for us. You see, it's not always the money that motivates our guys, more often than not there are other things as well.
I showed Keith my office upstairs and told him to sit and talk with me for some time. I couldn't help noticing how handsome he was, especially in that suit. And I knew there was a beefy body right underneath it. He is proportionally muscled and weighs about 200 lbs (90 kg), mostly in muscles.
So then I told him he can jerk off. He stood up and began to work his nice big cock. Keith Reed's reed is cut and looks pretty nice, especially when it gets hard. It has a beautiful mushroom head which gets into your face whenever he strokes it.
Keith begins to stroke his cock faster and faster and suddenly he shoots his big load of thick sperm all over my desk. Only his first squirt is captured on the last picture here, there was a lot more to cum afterwards!
Short preview video: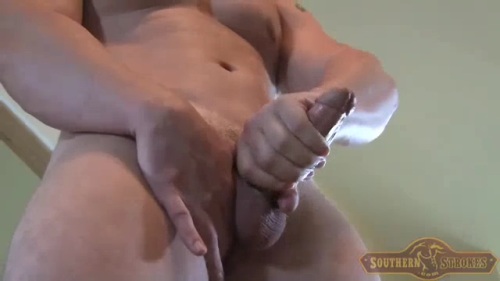 Click here to watch Matt's entire video at SouthernStrokes!
Southern Strokes is a porn site devoted to the hottest boys from the US South. As the saying goes, "Everything is bigger in Texas" and these boys are the proof. There are solo shoots as well as two or more boys fucking (sometimes bareback). All of the boys are amateurs, not porn actors, so if that's your cup of tea, you should definitely check them out!