Sergeant Atkinson wants to talk about anal hygiene with his privates today. It's an awkward topic to talk about, but the Sergeant is uncompromising and demands the attention from all his privates.
At first, the privates are a bit surprised that they will be learning about anal hygiene today but they still listen attentively. To ensure that the privates understand the lesson, he offers his own ass for the rectal examination so that they can learn the proper way it's done.
The recruits push their fingers inside his tight hole and examine the nether depths of Sergeant's asshole. The shy privates are surprised to discover that Sergeant's ass muscles are so strong and almost trap their fingers inside him.
Short preview video: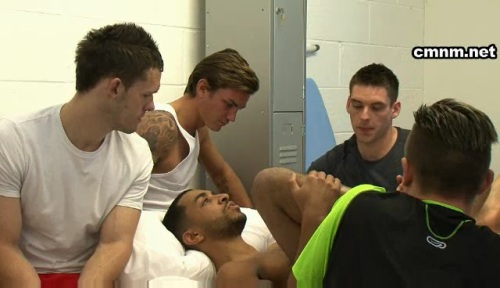 Find and watch horny Clothed Male/Naked Male videos in HD at CMNM now!
Clothed Male / Naked Male (CMNM) is a superhot porn site where Nervous straight guys get stripped naked, groped and violated by fully clothed men.
There's nothing better than stripping straight lads completely nude, putting their bodies on display, and teaching them exactly how to submit! When they are in such a submissive position, one would be crazy not to use the opportunity and jerk them off!