by Ben Daniels (Admin) on Mar.20, 2016, under CFNM
Tarquin is not terribly proud of some portions of his past. Without getting into too many details, let's just say that his behavior and the things he did are not something he would put in his CV, or brag about to other people. In the hope that he has learnt his lesson and that those kind of things won't happen ever again, Rita Barcliff agreed to take Tarquin's case upon herself and see if he has decided to reform himself.
While he was dressing up for the job interview he naively thought that he would be accepted because of his superior past accomplishments and education, but Rita demands much more. She's always sceptical of young men, especially when she hears from somebody that they fucked something up previously. Well, since she wants to be a good sport and give him a fair chance, she decided to put this young man to the test: he would have to show her his cock, which should bear witness of the recent happenings that he's accused of. Furthermore, let's be honest: Rita loves to play with men's cocks, and she does it often, whenever an opportunity presents itself. Well, why not?
Just watch how Tarquin's smile gets wiped out when she tells him she'd have to inspect his willy.

Click here to watch their whole video in HD quality at CFNM (Clothed Female/Nude Male)!
Clothed Female Naked Male (CFNM) is a very hot site for lovers of truly straight guys. It's a little tongue in cheek but the men are fuckingly hot!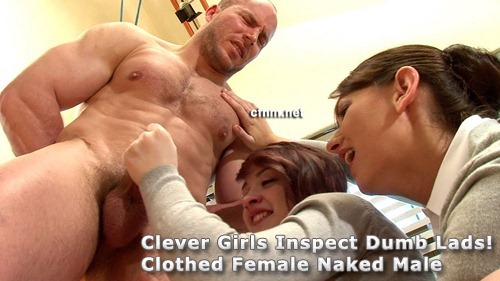 :blowjob, female domination, fit body, inspecting penis, job interview, naked men, pervy females, straight men, Tarquin