by Ben Daniels (Admin) on Mar.04, 2017, under Chaosmen
We've already met manly and hunky dude Barton in his solo and serviced videos, and we were eager to see him performing as a Top, which comes naturally for him. Barton's partner in this video is Jackson, who is straight and has a girlfriend, but Jackson also said his girlfriend loves to watch Barton's videos and it was obvious it would make sense to pair Barton with her boyfriend and see how strong his bisexual side is. Actually, Jackson is like any other dude, he just loves to have sex and shoot his load, regardless of the gender of his partner.
Although Jackson is very aggressive when he fucks girls, when he's paired with a guy he gets totally submissive and passive. So Barton took charge and we almost had an impression he played with Jackson, tossing him around as he wished. Barton is big on rimming a dude's ass and sucking his dick, so that's where he focused the most. Barton really got into it, became very passionate, and Jackson could only go with the flow, so to speak. One thing led to another and before you know it these two guys were kissing each other passionately! Jackson was surprised but it was all spontaneous.
Although Jackson has always been a little nervous and surprised, he never complains about getting fucked. He likes that. This was Jackson's second time to get fucked on these video shoots. Barton also wanted to feel Jackson's dick in his ass, and although he's a natural top he is in that phase in life when he wants to experiment more with bottoming as well. Jackson's rather long curved dick made Barton's cock hard as rock and he stroked it all the time while receiving Jackson's manmeat.
After several position changes, Barton gets to fuck Jackson on his back, and although this was a great position for Barton to fuck the cum out of Jackson, it just didn't happen. But Barton did cum, he had to pull out and shot his load all over Jackson's hole. Now with the seeded hole, Jackson was totally inspired to get into the "cum zone" and it wasn't long before he shot his load as well – all over Barton's face.
Check out their entire video in HD quality at Chaosmen.
Chaosmen is a great porn site that features hot straight and bi men getting serviced or fucking their mates bareback for some cash. This site is exceptional and very unique because almost every single fucking is bareback and ends with a gorgeous internal cumshot or creampie.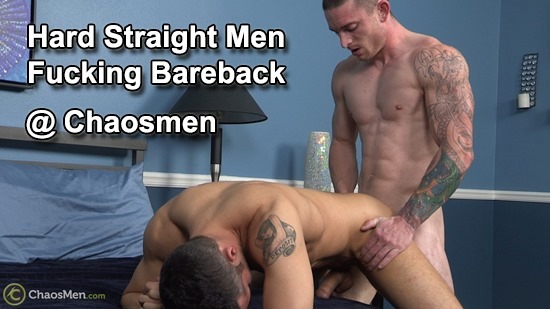 :bareback fucking, Barton, bisexual men, Breeding, creampie, cum eating, facial cumshot, flip flop fucking, hairy chest, hairy legs, handsome, Jackson, muscled, rimming, ripped, straight men