by Ben Daniels (Admin) on May.17, 2015, under BaitBuddies
It's a fact of life that many guys are attracted to nice foreskins. And Drake Jaden is definitely one of them! Namely, Drake and the main casting director of Baitbuddies (Caruso) were chatting over dinner about foreskins (not the best theme for restaurant, we'll agree) when the topic of Latino guys and their foreskins turned up. Drake expressed his love for younger Latino guys who often have large foreskins that hangs down over the cockhead. Often this foreskin fills up with plenty of precum and Drake likes to taste it every time he gets a chance. So you can imagine how happy Caruso was when he realized that the new applicant, Alejandro, was just in that category: younger beefy straight dude from Latin Americas. Alejandro hails from Cuba and loves to show off his hot beefy body to anyone who wants to see and worship it. He also sports a beautiful 7-inch thick uncut cock which is a real joy for any self-respecting cocksucker. After only a few seconds, Caruso knew that he found the perfect match for Drake.
We haven't seen Drake on this site for quite some time. Drake looks better than ever, he has bulked up quite a bit and his muscles seem quite imposing. He let hair grow on his chest, and you know it's something for which we'll always give extra points. He's joking that other guys now tend to call him "bear" these days. In any case Drake is more than happy to bottom for our new find, Alejandro. And Alejandro was also eager to get into action, only he had hoped to fuck some pussy… but nothing in life is ever perfect, so we have to make compromises all the time, don't we? Heheheh.
Alejandro is in his element while he's explaining what types of girls he likes the most: those with big, firm butts and long hair. I had to laugh a little bit to myself when I heard Alejandro's "big, firm asses" because I knew Drake would totally fit in the description!
The video proceeds in the usual way, and Caruso tells the guys to lose their clothes and get hard for the upcoming action. However, as it usually happens on these auditions, the main female actor doesn't show up. He tells the guys that the only way to walk out of the studio with some nice money in their pockets is to have sex with each other. That didn't sound too good to Alejandro, but eventually he agrees to fuck Drake. Finally, Drake can get his hands on this hot beefy Cuban stud, quickly reaches for his cock and begins to jerk it off. Alejandro becomes suspicious that Drake knew about this turn of events in advance, but doesn't protest too much.
Drake swallows Alejandro's cock and I'm afraid our hot Cuban boy is now caught in Drake's net. Drake is having a lot of fun with Alejandro's 8 inches of hard manmeat, and soon discovers that he can play with Alejandro's foreskin just the way he explained to Caruso while they were having dinner in the restaurant.
Next up, Drake stands up and demands a kiss from Alejandro. Alejandro is reluctant at first, but when Drake kisses him, our hot Cuban boy has no other option but to return the favor. Drake pushes his tongue into the boy's mouth and that's when Alejandro's defense mechanism breaks down! Alejandro grabs Drake's back of the head and kisses him passionately. Drake now gives a sign to Alejandro that he should try to suck his cock for a change. So Alejandro takes Drake's rather large cock in his mouth, reluctantly, and swallows only a few inches of it. Obviously, cocksucking isn't Alejandro's specialty!
Now Alejandro wants to get down to business and fuck Drake's eager ass. Drake never ceases to watch and lust over Alejandro's cock and now he's finally gonna get it. Caruso knew that Alejandro would like Drake's butt, and indeed when Drake showed it to Alejandro, the Cuban boy could only utter a "woof" – usually that's what you'd hear him comment after a hot girl passed by, but this time round it's Drake's butt. Alejandro becomes suspicious again, and expresses his doubt as to Drake's innocence in this while setup. Well, good reasoning Mr. Sherlock Holmes!
In order to test his hypothesis, Alejandro decides to fuck Drake's ass relentlessly and without mercy, and hopefully Drake will show his true colors then. Well, well, well… Drake eagerly accepts the challenge and takes it all like a champ. Drake utters various crazy stuff such as, "give it to me daddy" and "fuck me, fuck me". The guys change several positions, and eventually Drake can't take it any longer and shoots his load while Alejandro is fucking him. His cumshot hits Alejandro in the thigh. Alejandro pulls out and strokes his hard cock in front of Drake's face. Drake encourages him to plaster his face with his cum, which is how it happened: Drake's entire face and beard is sprayed with Alejandro's spunk. Being a genuine cocksucker, Drake takes Alejandro's cock and licks it clean.
Preview video:
Click here to watch their complete video in HD quality at Bait Buddies!
Bait Buddies is a pretty hot straight guy site with plenty of updates and some very hot guys indeed. There is always a "bait" dude who is bi or gay, and a straight (or sometimes "straight") dude who needs to be seduced into gay sex.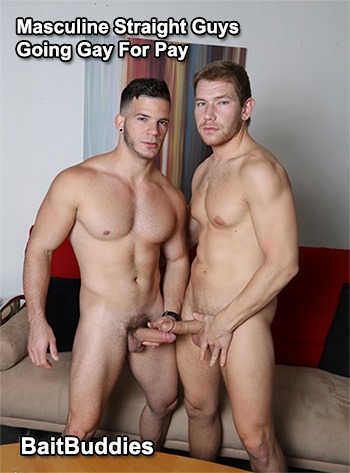 :aggressive fucking, Alejandro, bear, beard, beefy, blowjob, cuban, Drake Jaden, gay for pay, hairy chest, handsome, muscled, straight men