by Ben Daniels (Admin) on Mar.08, 2018, under CFNM
Belinda's new photography business is booming and becoming more popular than she ever imagined. The radical approach and hot naked men alongside hot clothed women that she features in it have proven irresistible material that is always in high demand. However, the problem is, she can't find enough men to meet this high demand. So she and her girls resort to all kinds of silly tricks to lure unsuspecting hot men into making sexy photos for their magazine!
Her female models Gina and Abby have stumbled across these two hot sporty brothers who work in a local store. One of them,  Hasip, already agreed to pose for their magazine, but they have to get Belinda's approval first. Belinda is very choosy about who she will feature in her magazine, though. Hasip looks very shy and nervous, and Belinda thinks it's actually a turn on: she likes it when men look amateurish and inexperienced because that gives them an aura of being genuine. But Hasip's clothes look somewhat unkempt and Belinda isn't too sure he would appeal to her demanding readers. Luckily, as soon as the girls lift up his t-shirt and see how fit and well-built his chest, arms and stomach are, Belinda starts to get some wild ideas…
Hasip was brought up in a very conservative environment and all this that has been happening to him looks like way too much, but as soon as he's stripped naked he starts feeling the admiration of all those women and this gives him the thrills of forbidden nature of it all! He nervously stands naked there among all those girls who are inspecting his hot naked body and awaits for Belinda's approval. The stardom has never looked so close and almost – inevitable. (to be continued…)
Click here to watch their whole video in HD quality at CFNM (Clothed Female/Nude Male)!
Clothed Female Naked Male (CFNM) is a very hot site for lovers of truly straight guys. It definitely has "a tongue in cheek" quality to itself, and both the men and women are really hot!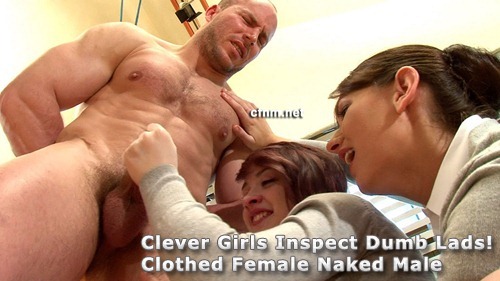 :amateur, beard, Belinda, brothers, clothed female, fashion model, fit body, Hasip, inexperienced, inspected, naked men, photo story, shop clerks, sporty