Rob used to be a respected doctor in his former life, and he was quite a conceited motherfucker who tortured his colleagues. However, somehow he ended up in this abandoned garage and is now at the mercy of two nasty Masters who have nothing else on their mind but to train and subdue this little arrogant twat.
They teach him how to properly suck a man's cock and worship his owner. He's come a long way and is now a real cocksucking slut. But he is still very conceited and arrogant, and thinks very highly of himself. This has to be rectified, though, and Master Dave subjects him to a thorough training in ultimate submission. He is forced to behave like a little dog and the Masters insert a buttplug in his ass to serve as his tail. He's put a collar and forced to walk on all fours.
The cruel masters shove their hard dicks in his throat and make him suck them both at the same time. One cock is not enough for this bad self-conceited boy. After his mouth and throat have been properly stretched by two big cocks, the Masters dump their sperm in his mouth.
Short preview video: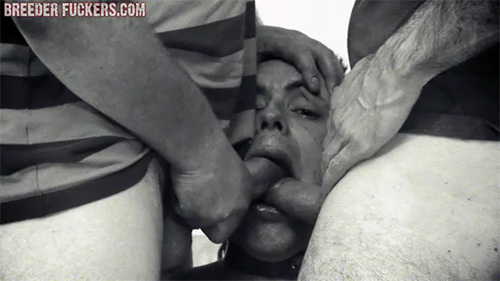 Watch new videos of arrogant straight men being turned into obedient cocksuckers at Breeder Fuckers!
If you prefer your porn to be on the kinkier side, you should definitely check out Breeder Fuckers (formerly known as Straight Hell). Breeder Fuckers is a premium fetish site devoted to hot straight guys being tormented, humiliated and treated without mercy by big, mean & aggressive studs!