by Ben Daniels (Admin) on Apr.25, 2019, under Island Studs
Don is a big and beefy Maintenance Man and Construction Worker from Tampa Bay. This big burly straight man agreed to show off his amazing big cock and muscular body for the camera. He also has a yummy hairy chest, and he always looks so damn sexy in his sexy underwear! The Islandstuds crew had a blast filming this big dude while he was fooling around nude in the garden and mooning the camera. He grabs his long cock and swings it like a "helicopter" – his 8-inch dick remains rock hard throughout most of the video!
Don is most definitely not a shy guy. He didn't mind showing us every inch of his perfect body, and he was relaxed as if he was at his home. Meaning, he pees, farts in the sun, wears a cock ring, and touches his big blue-collar man butt cheeks. Of course, like all muscular men he loves to flex his big impressive biceps. Actually, he demonstrated a full nude gym workout session right then and there in the tropical garden! He explains how to do proper chest presses and, in the process, he spreads his ass wide open, fingers his hairy manhole and jerks off his strong cock. When he was ready to shoot his load, he gave us a warning and blasted a massive load of warm jizz all over his muscular body! Then he took an outdoor shower, and opened up his ass once again to show us his super tight hole.
"Big Dong" Don is 34 years old, his height is 5'11 (180 cm) and he weighs about 205 lbs (93 kg). This was Don's very first time to appear before the camera for a porn site. Don loves his underwear and so he showed us how he looks like in sexy red, white and blue All-American briefs, which he wore while he mooned the cameraman and showed off his thick and furry thighs, as well as that amazing 8-inch pulsating cock!
In the interview, Don talks a bit about himself, and we soon learn that the two words that define him the best are: Perseverance and Determination – which he both got inked above his big pecs. Don also admits that he is a horny man, pretty much all the time! He also says that he's proud of his cock and its ability to retain full erection while he stands up and flexes his powerful muscles under the warm Hawaiian sun for our enjoyment. After that, Don takes off all his clothes and takes a rather long piss in the garden while wearing a rubber cock ring. He also unashamedly releases a big fart as he's peeing in the garden!
There is also quite a bit of "behind the scenes" footage of Don that the guys at Islandstuds included in this video. Don is telling us something about his plans on the Islands while he is stroking his 8-inch beautiful cock. He picks up a heavy barbell and bends it over his ass to perform chest presses. While he's working out, his cock dangles low, as do his balls. Don has a very friendly personality and likes to smile a lot. After the workout session, he grabs his ass cheeks and spreads his ass wide open for the camera. There's no denying that this hot straight man loves to finger his butt any time he finds a suitable opportunity.
For those of us who love to watch "Nudist Worker Series" with these Island hunks, Don works with a power washer blasting the pool deck with a powerful water hose! His 8-inch cock dangles unabashedly between his legs while he's doing all that hard work outdoors by the pool! He grabs his cock with one hand and strokes it, while at the same time holding the pressure washer in his other hand. Don also walks around the garden all the time with his 8-incher in full erection, which slaps against hi muscular thighs!
After all the hard work is done, Don kicks back and gives us the main course of the day, which is of course – the long awaited jerkoff session located in this tropical garden! The camera focuses somewhere between his hairy muscular thighs, and in the distance we see Don's smiling happy face and his big swollen cock. He raises one foot and puts it on the chair while continuing to jerk off. Some more ass fingering ensues, too. While sitting buck naked on the chair, Don flexes his big biceps while his magnificent hard cock stands proudly upright! Damn, if there's a pose that always makes me hard and horny it has to be when a hot stud like Don flexes his muscles and his cock stands fully erect without him even touching it.
After some time, our Big Dong Don finally comes to the point of no return and shoots an amazing load all over himself! He moans loudly as he's releasing his seed, while the powerful orgasm shakes his body. After that cum-explosion, Don's face expression shows a contented smile, while his pubes, abs and balls are covered with his cum. Lovers of hard-bodied, muscular blue-collar men should not miss out on this amazing new update from Islandstuds. Don, the 8-inch Wonder Man is most definitely a keeper!
Preview video:
Click here to watch his entire movie in HD quality at Island Studs!
Island Studs is a great, new, and refreshing porn site that features hot guys from Hawaii. These bad boys have no problem with showing off their beautiful, toned body and hard cock. Watch them as they do their usual chores against the stunning backdrop of Hawaiian nature!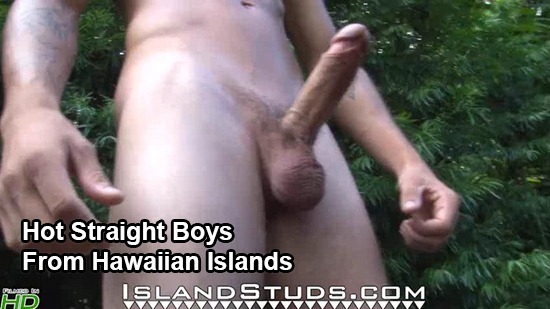 :8-inch cock, beard, big biceps, big cumshot, blue-collar guys, construction worker, Don, handsome, Hawaiian, inked, jerking off, muscled, nature, Outdoors, ripped, shower scene, showing asshole, smile, straight men, taking a piss, walking with erection, working in garden