by Ben Daniels (Admin) on Jan.29, 2014, under BreederFuckers
Hot beefy sportsman Daniel is in trouble again. He's found himself completely naked at the mercy of two mean and very pervy men. Daniel's muscled inked body is fully exposed by immobilizing him with a special apparatus. His jockstrap is pulled aside to expose his uncut cock. The pervy men have absolutely no regard for his feelings. His cock is jacked off by the pervy men's hands until he shoots his wad.
This arrogant sportsman needs to learn his place when he's in the vicinity of other men, so his captors force him to swallow their cocks, one by one, and lick up all the precum that has oozed out. Namely, it's not always easy to train these naturally macho and defiant men. It takes a lot of persistence and cruel training to break their will and force them into submission. These two pervy men have excellent track record in training such motherfuckers, and they know very well that pushing two erect cocks down the fucker's throat it the best way to make them shut up and obey the Masters. Daniel is forced to deepthroat both cocks, and he's allowed only to breathe a few times before another cock is shoved into his throat again.
However, the Masters are not completely satisfied with his cocksucking service, so he has to be trained some more. He is made to spread his legs on a bench so that Master Dave can shoot his load straight into Daniel's face. Next, Daniel's ass is spread even further to allow for both Masters to fuck him hard again.
Preview video:
Check out the newest videos with arrogant straight men being turned into obedient cocksuckers at Breeder Fuckers!
If you prefer your porn to be on the kinkier side, you should definitely check out Breeder Fuckers (formerly known as Straight Hell). Breeder Fuckers is a premium fetish site devoted to hot straight guys being tormented, humiliated and treated without mercy by big, mean & aggressive studs!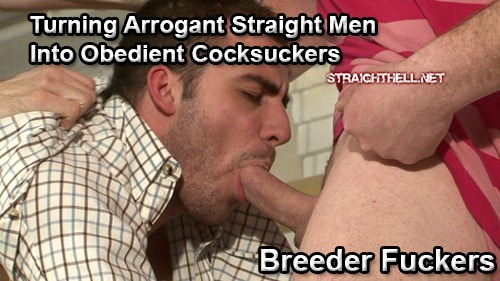 :Adrian and Dave, BDSM, buttplug, cumshots, Daniel, deepthroating, dildo, domination, forced blowjob, forced fucking, muscled, training