by Ben Daniels (Admin) on Jan.12, 2018, under New York Straight Men
Here's another "blast from the past" video from Newyorkstraightmen, which was shot some 10 years ago, during their golden era with hot truly straight men and good cocksuckers.
Bobby was "the resident cocksucker" back then, and the viewers emailed the director asking more "interactive scenes" with Bobby and the straight man whom he gets to suck off. Well, when Bobby was asked who would be his dream straight guy, he immediately and without hesitation replied – Jeremy.
Jeremy lived full time with his girlfriend at that time, and when the director phoned him he behaved strangely and ended the call abruptly. So Bobby was given the sad news that Jeremy probably wouldn't be an option. After several hours, however, Jeremy called them and started apologizing profusely – when he was called the first time he was lying in bed with his girlfriend, and strangely enough, she was sucking his cock as well! And since he was about to shoot his load he had to invent something just to end the call. But since Jeremy never refuses a good blowjob, he had to come
It seems that Jeremy noticed there's a particular "easygoingness" and laid-back attitude with gay guys when it comes to blowjobs. Namely, you never have to beg them to suck your cock, they are always in the mood, and (unlike some girlfriends) they never have a headache when you just need a good blowjob! So, it's no wonder that Jeremy was very eager to experiment with Bobby and, as you can clearly see in this video, they were both soooo horny!
But even though we kinda expected that Jeremy would be keen on exchanging blowjobs with Bobby, their horniness and the sparks flying on all sides definitely surprised everyone involved!
You can tell Jeremy was very horny from the get-go. His cock already started to ooze precum, and there was a visible wet spot on his underwear, right under his rock-hard and pulsating cock. But Bobby is an old cocksucking expert and he knew how to take this to a whole next level. The guys kissed a lot and switched roles so many times that we stopped counting. They eventually found the 69 position as the best solution, as they were both eager to swallow and suck each other's cock while getting head at the same time.
They were eventually synced so well that they cummed at the same time: Bobby first shoots his load all over himself and only seconds later Jeremy shoots several squirts of his jizz all over his stomach and chest. Definitely a very hot movie with a messy ending!
Be sure to check out the Extended Preview Video we've provided at the end of this post, as it contains quite a bit of the original recording with many interesting hot scenes.
EXTENDED PREVIEW VIDEO:
Click here to watch their entire video in HD quality at New York Straight Men!
New York Straight Men is the world's biggest collection of straight men getting their blowjobs from gay dudes! These men are usually truly straight but they love getting head from a gay guy because it feels so much better than whatever their girlfriends can do. These men are not the Hollywood type cuties, they are Real Men!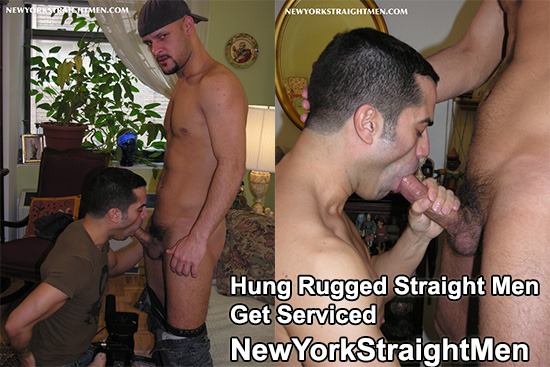 :69, big dicks, blast from the past, bobby, cumshots, exchanging blowjobs, french kissing, jeremy, military men, muscled, passionate, resident cocksucker, straight men