We've already seen Lukas in some of our movies during this year. But before he began to work as our porn actor he had to be tested to see if he could withstand intense fucking by other men.
This is the recording from that interview, where our casting director first begins to kiss this sensitive lad, to relax him a bit. Lukas is constantly giggling in the beginning because he can't believe he's kissing with another man. Not that he thinks it's anything shameful but it's just a little weird and unusual for him, still. Lukas is pretty manly, yet tender dude. One has to use soft erotic methods to make him horny.
When the clothes are gone we can appreciate Lukas' naturally hairy and muscled body. His chest is full of delicious masculine hair. The same can be said about his genital region which is unshaved and manly as they come.
After some time spent in kissing and tongue action, Lukas' dick wakes up and becomes a nice, stiff, throbbing boner.
Lukas readily accepts the role of a cocksucker and sucks the casting editor's dick. Then he turns on his back and in the position which allows the casting editor to penetrate his ass.
This was the very first time Lukas got fucked by a real cock and I think it went very well. There was a shock in the beginning, probably some pain as well, but then he got used to it and actually became very horny demanding to be fucked harder and harder!
So Lukas is now moaning and gasping like a real man slut and gets excited by being fucked by a man. Not bad for a beginner! Lukas was rewarded by a big load of spunk on his arse delivered by our casting director.
Preview video: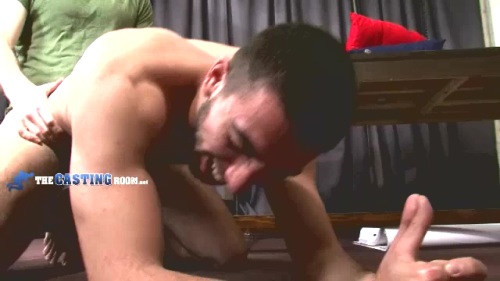 Click here to watch his entire video in HD quality at The Casting Room!

The Casting Room (formerly known as First Auditions) is a great, original porn site that showcases young, cocky straight men who would like to become porn stars and make loads of cash. They think that they'll be accepted right away and be able to fuck lots of girls, but they don't know that our casting director is very strict and wants to fully inspect them during the audition. He orders them to get fully naked, show their ass, and jerk off so that we can clearly see the cumshot. Plus, we get to hear all their fetishes and what turns them on.