by Ben Daniels (Admin) on Mar.23, 2014, under Brutal Tops
Poor Elliot. He obviously got more than he had bargained for. Master Toby is a far more vicious and cruel sadist than this innocent cute sub had suspected in the beginning. Elliot just wanted a good stern Master to take care of his ass from time to time, but Master Toby works and thinks about his sub boys from an entirely different level of cruel state of mind.
So, today for example, Master Toby felt horny, and of course he went straight into the toilet where he knows that his sub always patiently awaits for him. The savage Master storms into the toilet and orders his sub boy to suck his big cock right from the get go. The poor boy doesn't know what hit him and begins to cry like a big baby. Master Toby is unmoved, however, and continues to stuff his raging boner deep into the sub's throat.
You see, the good Master has to make certain things clear to his sub – that he is the Master, the masculine man that the sub is allowed to worship. On the other hand, the sub has no rights whatsoever, he must know that he's an inferior male specimen, and must fulfill every Master's wish no matter how degrading or painful it might turn out to be. Not paying attention to the sub's cries for mercy, Toby bends him over and pushes the sub's head straight into the dirty urinal. He then shoves his raging hard cock deep into the boy's already ravaged asshole. You see, the sub's ass must be stretched and drilled on many occasions, so that it becomes permanently widened, despoiled and violated beyond repair. It's an understatement to call this sub's asshole "deflowered", because it's utterly demolished by now.
While being mercilessly fucked, the pathetic sub is forced to lick the urinal and swallow the remnants of stale piss. The sub is wailing and whining, but the fucking goes on. There's also one more important thing that the sub must learn – he is not allowed to get hard, therefore a chastity collar is attached around his cock and balls to prevent any spontaneous erections. The only thing that the sub is allowed is to please his Master.
Now, Master Toby fucks him so hard that the poor boy falls onto the ground and must endure all the Master's thrusts in this position. Toby looks at his sub with a scornful smile and spits into his pathetic face.
Next, Toby pulls out and sits on the sub's trembling chest. Soon enough Toby is about to cum and he aims at the sub's mouth. He orders the boy to open his mouth and shoots his load directly into his mouth and throat. The sub is of course forced to swallow every last drop of the Master's warm thick jizz.
Preview video:


Download this one and many other horny new BDSM videos at BrutalTops!
Brutal Tops is a fantastic site for lovers of the most ferocious sexually aggressive doms in the world. These dominant men love to give orders which have to be obeyed!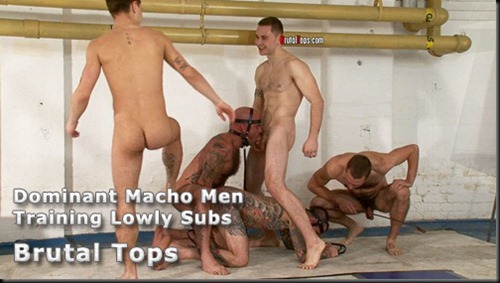 :aggressive fucking, brutal fucking, cum eating, Elliot, facial cumshot, forced blowjob, humiliation, Master Toby, sadistic, submission, toilet scene