by Ben Daniels (Admin) on Sep.20, 2012, under Chaosmen
As you probably already know, Vander is one really, really, really hung dude. His cock is of epic proportions, very long and very thick. It's the ultimate monster cock that everyone craves for at least sometimes. Vander is usually a top and likes to dominate when he fucks.
On the other hand Carmine is a cock-hungry twink with a huge daddy fetish. He loves to be dominated by older men and fucked mercilessly. Carmine also loves big cocks so that he knows his ass has been properly demolished.
This was a very explosive fuck scene in every possible sense. There was a chemistry between the guys and you could feel it in the air. The guys fucked like animals and made quite a mess in my room. There was lube all over the place, tables were tipped and they also conked their heads on the overhead microphones.
After appreciating Vander's huge stiff tool for a moment (most guys are surprised that it's really that big) Carmine takes it into his mouth and begins to blow Vander. Vander returns the favor a bit later. But this was only the prelude to the main event.
Carmine has a lot of experience with big objects in his ass (he can take a beer bottle there) but taking Vander's fuck stick proved to be a challenge. Vander wanted to insert his cock first while they were in a doggy style position, and then Carmine tried to sit on Vander's dick facing him, but none of these approaches worked. However, the reverse cowboy position did work and soon enough Carmine found himself in the fuck heaven!
Occasionally they suck each other's cock, and boy oh boy, Vander's dick looks like some kind of artillery weapon. But I digress. I really dig the scene when Vander is laying on the floor and playing with his monster tool while at the same sucking Carmine.
At long last, Vander lays Carmine on the bed and begins to fuck him really hard. Carmine wants to reposition himself occasionally but Vander keeps him at one place with his strong arms.
They take a little break and now we see Carmine sucking off Vander again, licking up all those juices from his own ass. While he's doing that Vander keeps talking dirty things directly into Carmine's ear. Vander has heard that Carmine is so fond of dirty talk that he can actually get off on that alone. So he keeps on and tells him just the dirtiest stuff you can imagine. Carmine implores Vander to continue to fuck him, but even before Vander begins to pump Carmine starts to cum. Vander shoves it in nevertheless. It's a beautiful scene to watch Carmine shooting his load while Vander fucks him.
Vander begins to fuck Carmine harder and harder and eventually shoots one squirt of cum on the surface of Carmine's asshole, then shoves it inside and shoots the rest of his load there. A bit of cum oozes out of Carmine's hole in the process.
Eventually Vander offers his cum soaked cock to Carmine to lick it clean, and as every good boy Carmine obeys his daddy!
Preview video:
Click here to watch their entire video in perfect HD quality at Chaosmen!
Chaosmen is a great porn site that features hot straight and bi men getting serviced or fucking their mates bareback for some cash. This site is exceptional and very unique because almost every single fucking is bareback and ends with gorgeous internal cumshot or creampie.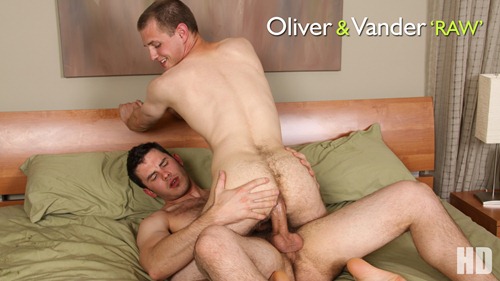 :aggressive fucking, bareback fucking, blowjobs, Breeding, Carmine, daddy fixation, hairy chest, internal cumshot, interracial, masculine, monster cock, muscled, thick cock, twink, vander