Today is that time again when we revisit one of those classic blowjob videos from NewYorkStraightMen. And this time around we are going to take a closer look at Brock and Jim together in one scorching hot video.
Jim thought that it would be a good idea to drop by the NewYorkStraightMen headquarters for a quick blowjob. However, things got much more exciting because Brock was already there, quite horny and willing to play and experiment with Jim.
In the beginning, Jim was a little reserved and nervous, but as things went smoothly and both guys got more relaxed and very horny, Jim also became less nervous and started to enjoy fooling around with another dude. There was a lot of kissing, sucking, and worshiping each other's bodies.
Both guys were obviously very much into each other and enjoyed exploring each other's hard masculine bodies. It's so hot to see two big-dicked men sitting next to each other with their stiff hard cocks sticking out and pointing to the ceiling! It seems that both guys really wanted to please each other as much as possible.
The ending doesn't disappoint either – first Jim shoots his load and gives Brock a rather nice massive facial cumshot. Then Brock, with his face still splattered with Jim's jizz, continues to stroke his huge stiff cock, and after a few moments, he also shoots his load. After that the guys were both exhausted and satisfied!
We made sure to include quite a bit of this classic blowjob video in the EXTENDED PREVIEW VIDEO below, so if you like these NYSM blowjobs, you should definitely check out the entire video at their website.
EXTENDED PREVIEW VIDEO: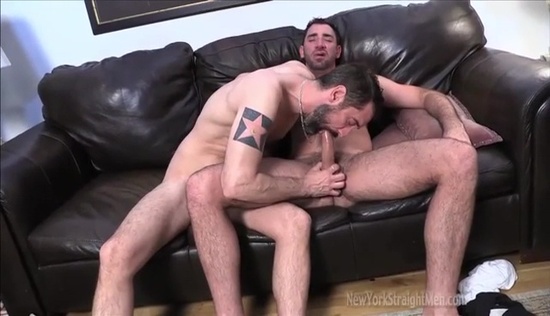 Click here to watch their entire video in HD quality at New York Straight Men!
New York Straight Men is the world's biggest collection of straight men getting their blowjobs from gay dudes! These men are usually truly straight but they love getting head from a gay guy because it feels so much better than whatever their girlfriends can do. These men are not the Hollywood type cuties, they are Real Men!