by Ben Daniels (Admin) on Sep.20, 2012, under SUCKoffGUYS
A couple of weeks ago Seth Chase was lucky enough to get hold of Ethan Ever's amazing huge cock. Today Seth's life partner Aaron French is the lucky bastard and he will blow Ethan's big fuck stick until he squeezes all the cum out of Ethan's balls.
The movie begins with Aaron and Ethan sitting on the sofa and cracking jokes. Not too long after that Aaron is searching for something in Ethan's pants.
A few seconds after this Aaron takes off Ethan's pants and boxers to reveal that utterly amazing big slab of man meat. I must confess, Ethan looks extremely sexy with this longer beard. His cheeky smile does it for me, always, but today it's even hotter than usual.
Not only has Ethan grown a beard, he has also grown a nice bush on his pubes! Aaron is a well-known cum pig and self-confessed cocksucker. He never misses an opportunity to suck a nice big cock and drink some cum.
Aaron gets down to work and begins to suck Ethan's fuck stick. Ethan's cock grows even harder and suddenly Ethan grabs Aaron's head and pushes it on his cock, essentially face-fucking Aaron.
Ethan kicks back on the sofa and lets Aaron do his cocksucking job, without interfering too much for some time. Aaron does a great job, as usual, not missing an inch of this big dick. Ethan is feeling like a king, while Aaron worships his cock.
Ethan now wants to get a bit more rough and places Aaron in such a position that he can easily face-fuck him. He shoves his dick deep inside Aaron's throat until Aaron begins to gag and can't take it anymore.
This is that precious moment when your dick becomes so hard and sensitive that every single touch, even the smallest one, can send waves of pleasure throughout your body. Ethan relishes this moment and lets Aaron slowly touch and play with his hardon.
Aaron can sense that Ethan is close to cumming and the men change the position so that Aaron can be fed with Aaron's seed. Ethan shoots his load directly into Aaron's open mouth, then squeezes the rest of it. He puts his cock in Aaron's mouth again and waits till it gets soft there. All the while the fresh semen drips down Aaron's throat while Ethan's cock is still in his mouth.
Preview video:
Click here to watch their complete video in perfect HD quality at SUCKOffGUYS!
SUCKOffGUYS is a very interesting and hot amateur gay porn site that focuses on blowjobs, cum eating, cumshots, cum play and all things cum! The site owners are obviously total cum pigs and it shows. Be sure to check them out if you're into beautiful hard cocks, blowing stiff rods and sperm in all varieties.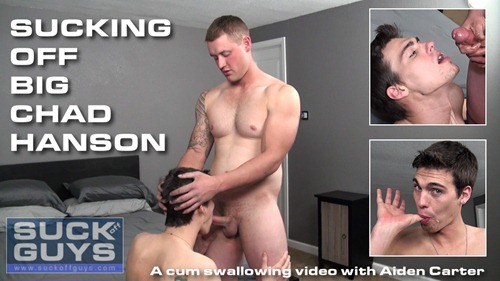 :Aaron French, beard, blowjob, cum eating, Ethan Ever, huge cock, hung, soft dick, SUCKOffGUYS, tattoos