I'm so glad to see Girth Brooks again! When I started this blog back in 2008 he was one of the first rough straight men that I featured here. Ah, good memories. Girth is still as big as he has always been and his smile is still there, shining on his handsome face!
This time round he will drill some ass on Brazilian stud Daniel Leon, who happens to love huge dicks. We begin this scene when Girth arrives at his home after a hard day, and starts to take off his clothes. Girth puts his hand in his pants and gives the signal to his snake monster that it's time to wake up. Girth actually awaits his lunch date and he knows he has to get dressed soon. But right at that moment Daniel enters the room and sees Girth half-naked. He apologizes for having been late and says that he is hungry.
Hungry? Thought Girth to himself. Girth turns around to face Daniel and now his monster dick is pointing straight in Daniel's direction. "How about sucking my horse hung cock?" Daniel was only kidding about being hungry, he has actually been hungry for Girth's cock. Daniel kneels before Girth like every good cocksucker, and takes that monster deep into his mouth and throat. Swallowing a massive dick such as Girth's is a special task that only the most adept cocksuckers can hope to do right. Girth thought it would be cool to slap Daniel's face with his big tool and he does it. Daniel is extremely horny and can't get enough of Girth's cock. There were some pretty hot shots from various angles of Girth being serviced.
Daniel gets rid of his briefs and exposes his smooth ass for Girth to do with it whatever he pleases. Girth first spreads the cheeks on Daniel's ass to get a better view of his tiny pinky hole which is about to get stretched to a whole different level. Girth puts his monster deep inside Daniel's ass. Daniel groans while his ass is getting stretched with Girth's throbbing penis. Daniel is a well-known connoisseur of cocks so he actually enjoys every minute of being impaled on this particular specimen. Daniel doesn't mind the pain, as the pain is transient but the bliss – permanent!
They change the position and now Girth sits down and lets Daniel impale freely on his shaft. Girth then fucks him real hard and causes Daniel to shoot his cum while being fucked. Daniel sprayed his cum all over himself. Then Girth positions Daniel on his knees and shoots his wad covering Daniel's face and chest.
Preview video: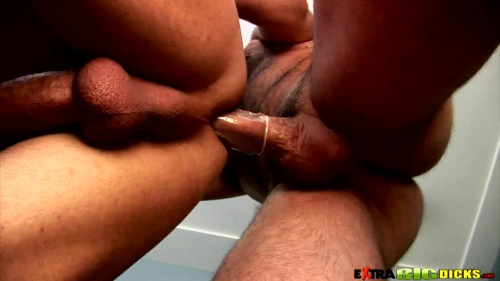 Click here to watch their entire video in perfect HD quality at Extra Big Dicks!
As the title suggests, Extra Big Dicks is a porn site devoted to lovers of very hung men, or to be more precise to their huge schlongs! The site has been in existence for a very long time and has a massive archive of several hundred updates, all with VERY hung men! Certainly check it out if big dicks rock your boat!