Everything is so much easier in Summer. You don't have to think about tons of clothes. A pair of shorts and a t-shirt will usually do the trick. You can also hang out with your mates in the garden talking about shit and never think about weather or if you'll be staying up late.
This scene was taken during one such day this summer. It was a hot summer day as usual, and the Mitchel Brothers came over to Dan Broughton for a drink and some chit-chat. Dan and Carl Mitchell are having a leisurely chat about their sexual experiences with girls and blokes. It turns out that Carl has never been sucked off by a bloke, nor has he ever sucked another man. Dan thinks that Carl is missing out, and tells him "You haven't lived then." Carl decides to give Dan a chance and show him if it's really true that blokes give better head than girls.
Things started to go in various unplanned directions once Carl began to wank Dan and then went for his ass. Of course, Dan doesn't mind this turn of events and gives his ass freely to this macho straight lad.
Carl's brother Doug then copies his brother and sucks Dan as well! Now Carl proceeds to nail Dan's ass while his brother Doug's cock is in Dan's mouth.
Doug was the first to cum, and he shot a rather big load. Dan was next and shot also a nice copious load. Finally Carl also shoots a big stream of cum!
Preview video: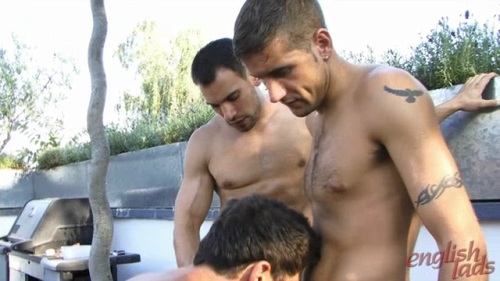 Click here to watch their entire video in perfect HD quality at EnglishLads!

English Lads is a fantastic site with loads of very manly, straight lads from England who love to show off and jerk off for the camera. All movies are in HD quality.