by Ben Daniels (Admin) on Sep.11, 2015, under TheCastingRoom
Lionel is a very hot, masculine straight man. He has several tattoos which make him look even more rough. He proudly wears a thick beard – my type of man!
Lionel has only had sex with women so far, but he has fucked she-males from time to time. Apart from this, he thinks that people should get over sexual hangups and just enjoy whatever they think turns them on. He's also very laid-back about walking naked in his house or at his friends' place. He reckons there's no reason anybody would object to his being naked, which is a view that we totally like and support!
Although Lionel doesn't intend to get intimate with other men, he says he often likes to stand next to other guys in the locker room and compare his muscles to that guys'. He also likes to brag about his recent successes with women in the locker room, and will start telling you about the latest hot chick that he scored.
His body is beefy and somewhat hairy, and his uncut cock is very nice and big. Lionel is especially proud of his long foreskin, with which he often likes to play. I sure hope we'll be seeing much more of this hot motherfucker!
Click here to watch his entire casting video in HD quality at
The Casting Room!
The Casting Room (formerly known as First Auditions) is a great, original porn site that showcases young, cocky straight men who would like to become porn stars and make loads of cash. They think that they'll be accepted right away and be able to fuck lots of girls, but they don't know that our casting director is very strict and wants to fully inspect them during the audition. He orders them to get fully naked, show their ass, and jerk off so that we can clearly see the cumshot. Plus, we get to hear all their fetishes and what turns them on.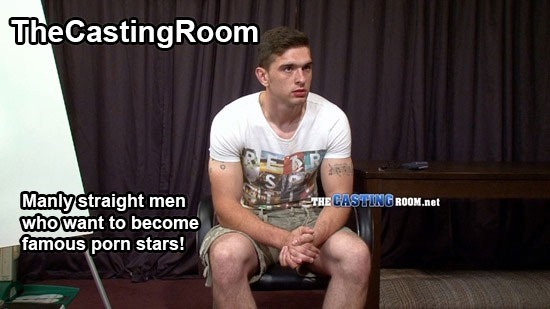 :beard, beefy, foreskin play, handsome, jerking off, Lionel, masculine, muscled, rough look, straight men, uncut cock