This is a very passionate fuck scene with highly sexually charged and ruggedly handsome Dirk and horny, cute young twink Lucas Davidson.
Both men have exceptionally large uncut cocks and as soon as we put them together they started to feast on each other's hard boner. Blowjobs come naturally with such a big endowment I guess, you just can't resist getting it into your mouth.
Dirk's cock is so stiff and straight that it always points straight into the sky, while Lucas' dick is semi-hard and looks like a thick snake inside his pants. First the jerk each other off a bit, but then Lucas gets down on his knees and takes Dirk's monster in his mouth.
Lucas began to suck it slowly, but Dirk is an aggressive dude and soon enough we see him shoving Lucas' head onto his rod, essentially face-fucking him.
Dirk provided a very long, wet rimming to Lucas before sticking his weapon deep inside his ass. This helped Lucas relax and accommodate Dirk's considerable fuck stick, but there were still some problems along the way. I mean, it's so damn huge, who wouldn't feel at least some pain?
Dirk fucked Lucas in three positions, each of which I found pretty hot. There was real chemistry between the two guys and you can feel it in the video. I particularly liked Dirk's aggressiveness and almost crude "fuck-machine" attitude, it's so macho and hot.
Lucas kept his white sport socks, so for you socks lovers there's something interesting here for sure!
The scene in which Lucas is on his back with his legs wide apart, while Dirk is on his knees and fucks Lucas. Dirk takes Lucas' foot (with the white sock) and sniffs it while still fucking Lucas' ass. Dirk kept this position to the very end, and found the proper rhythm.
When he was close, Dirk pulled out, took off the condom and moved to Lucas' mouth. Lucas got really horned-up from this and a few seconds later we see him shooting his load. Dirk gets inspired by the sight of Lucas' erupting dick and shoots his load in several big and forceful squirts. It was a great cumshot, so I had to show it twice (second time in slow motion – in the full version only).
Preview video: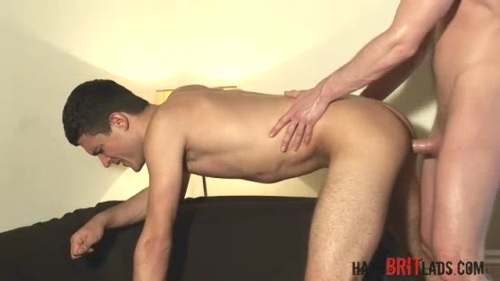 Click here to watch their entire video in perfect HD quality at Hard Brit Lads!
Hard Brit Lads is a relatively new porn site that features only the most masculine and well-built straight and bisexual guys showing off and fucking the shit out of each other. The videos are well-made and shot in HD. Don't miss out lots of amazing, manly men!