Master Nick is one of the infamous doms at The Hard Order. He knows all the dirty secrets of his submissive boys, and why they do things they do. For instance, he says there are several subs who work in the gym where he works out as members of staff.
Master Nick says that he knows they are all hard-working workers, but conscientiousness is not the main reason why they work in the gym. The main reason is that they want to dedicate their lives to serving masculine, muscled motherfuckers such as Nick!
Master Nick says that these people want to sniff the weight lifters' used shorts in the changing rooms and get off on licking their sweat from the workout benches. Master Nick says he knows it all, their every little, perverted secret.
Master Nick will devote this evening to chatting with such people, whether they only fantasize about these things or are actually doing them. Meanwhile, he will be showing off his perfect muscled body and teasing us with his big, stiff cock.
Preview video: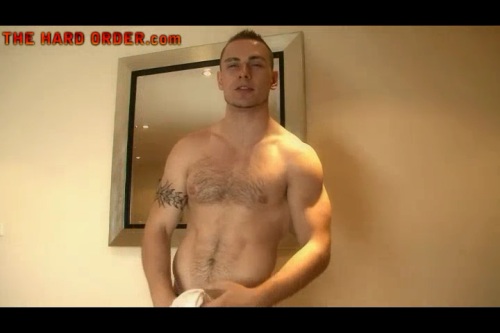 Click here to watch his entire video at The Hard Order in perfect HD quality!
The Hard Order is a brand new porn site from the makers of Rate These Guys. This site is made for submissive guys who are into strong, masculine doms. The site features lots of manly motherfuckers who will tell you what to do, and how to do it, and in the meantime they'll show off their perfectly built body and hard dick.
The Hard Order is a class of online financial dominators who control you, your orgasms, your thoughts and your wallet.
The men of The Hard Order have individually become skilled at dominating men sexually both online and off line. Each have found tremendous pleasure and financial reward by dishing out severe humiliation, cum control, BDSM and CBT. It is natural that they have come together to form a group dedicated to the online financial exploitation of paypigs such as you. If this is your cup of tea, you won't be disappointed.