Here we follow Officer Samuel O'Toole during one of his night shifts. Officer Samuel is strict but fair. He won't make a fuss over some small violation, but he never lets bigger offences go unnoticed.
He apprehended Lucas Knight over a minor violation, but as soon as some details are cleared up, it turns out that Lucas is only a friendly witness, not an offender. Samuel takes it upon himself to investigate the matter further and soon enough the two men are in Officer Samuel's room.
Hoping he would increase his chances of being released quickly, Lucas takes out Samuel' cock and starts kissing it. Samuel has already decided to set Lucas free, but the young punk needs to be taught a lesson or two, and that's best achieved with that power tool between Samuel's legs!
Samuel starts fucking that tight ass and inspects Lucas' anal orifice as deep as his ole tool reaches – which is a considerable length. After not finding any incriminating evidence, Samuel is happy to shower Lucas with his plentiful jizz.
Preview video: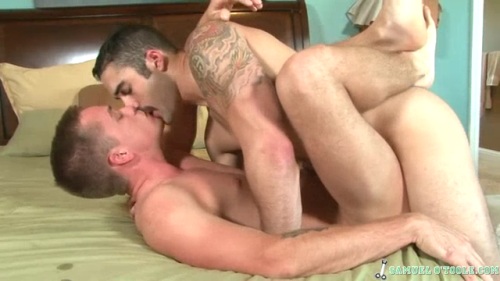 Click here to watch all of Samuel O'Toole's videos on his personal porn site in HD quality!
Samuel O'Toole is a hot hippy porn star, he certainly looks like a guy next door. He is a very cool dude and I always love to watch his videos. This manly man will blow your mind once he gets real horny and pounds some ass with his huge, thick cock!
Samuel started off as a straight porn star but since gay pays much better, here he is. I heard he recently retired from performing in porn, though, but there are a lot of hot videos already on his site.