Since Jewish holiday called Rosh Hashanah is this week, the Islandstuds director reckoned that it would be a perfect time to invite handsome, hung and beautiful Jewish American Law student Isaac and thus celebrate this holiday.
Isaac already has the mindset of a typical attorney. He says "I want to be a divorce attorney and make a lot of money". Isaac is a well-dressed, well-educated guy and he has no tattoos on his body at all. His smile is great and heart-warming. This is his second appearance on Islandstuds. You can still find his first video in the members area of Islandstuds in which you can watch Isaac while he is skinny-dipping on a public beach, posing naked and pissing naked – check that out! We featured that video in this post several years ago.
Isaac now feels much more comfortable in front of the camera. This handsone college jock is now 27 years old, his height is 5'11" and he weighs 155 lbs. In this second video Iaaac reveals much more about himself, and he was not shy to proudly show off his yummy butthole! And he is even more proud when he gets a chance to show off his hot pulsating 8-inch hard cock! He came wearing his special crotchless jockstrap underwear, and he confesses not without a certain amount of pride that when he feels sexy he will go to his classes wearing that.
Lovers of sexy male holes should not miss this video because it contains a whole festival of Isaac's open hole! That hairy pink hole is definitely mouth-watering, and the camera catches it from many angles while Isaac is doing variuos tasks and posing naked.
Isaac's butt is firm, bubbly and muscular, and also check out those dimples above his butt! It is important to point out the fact that Isaac is among the biggest cummers on Islandstuds! First, we see him lying on his back and stroking his cock at a fast pace. When his face becomes flushed red he exclaims "I am going to cum now!" And when we hear his loud moan, a torrent of jizz starts shooting from his dick. That was definitely one of the biggest cumshots ever filmed on Islandstuds!
Squirt after squirt of warm man juice are ejected forcefully from his cockhead and Isaac keeps stroking it. Those big balls were so full of cum that they definitely needed to be drained. In the end, there is a puddle of sweat and cum, and Isaac's trademark big happy smile!
Isaac's shower scene is not to be missed! Watch him as he lathers up his body while his 8-inch dick is still hard. Isaac says that he is a "Germ-a-phoebe" and he meticulously cleans every part of his muscular body. While he washes his feet we get a chance to see his pink, wet and hairy hole once more.
Do not miss this amazing muscle boy and his impressive 8-inch hard cock. We thoroughly enjoyed watching him show off, and can't wait to see more next time.
Preview video: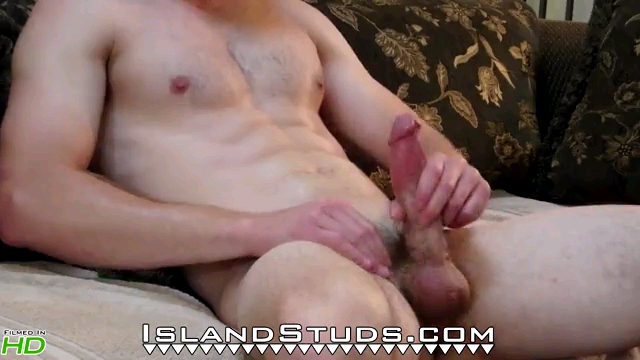 Click here to watch his entire movie in HD quality at Island Studs!
Island Studs is a great, new, and refreshing porn site that features hot guys from Hawaii. These bad boys have no problem with showing off their beautiful, toned body and hard cock. Watch them as they do their usual chores against the stunning backdrop of Hawaiian nature!