We present you a new mini-series called "Behind Bars". It features several interviews with criminal offenders who were sentenced to jail.
In this first episode Parker London is interviewed and explains how his cell mate Phenix Saint made him his own personal bitch as soon as they met. As soon as the two men exchanged a few words Phenix made it clear that Parker's ass will be his property from then on.
Phenix fucks Parker every day and does it roughly, but Parker got used to it over time and I think he even began to like it, especially when he gets completely covered in cum whenever Phenix releases his load, to "mark the territory".
Preview video: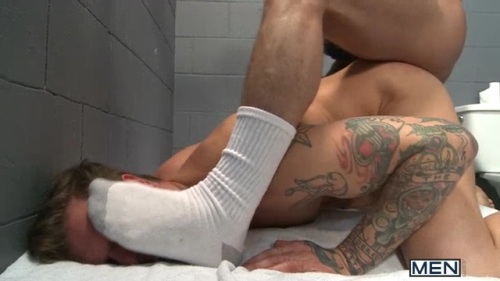 Click here to watch their entire video in perfect HD quality at Str8 to Gay!
Str8 to gay is a brand new site – a part of the MEN.COM family of sites – that explores situations when a straight guy is dissatisfied with his girl or wife. Would his gay buddy do a better job where his wife has failed? Of course he would!