Straight boxer Nicholas has been training hard for his boxing competitions and it certainly shows on his arms and chest getting bigger and stronger by the day.
However, along with his muscle growth he also acquired a rather nasty, cocky attitude towards everyone else. He thought he became invincible, stronger and hornier than just about anyone else. Well, he was wrong – as Adrian and Dave are about to show him.
Adrian and Dave decided to teach this cocky, stuck-up and always horny boxer something about obedience and discipline so that he can learn his place.
So Adrian and Dave captured him and tied him up with a rope, then bully him shouting all types of obscenities at him, twisting his nipples all the time. Sometimes they even punch him in the gut. Adrian and Dave got really pissed off by this spunky, disobedient boxer and wanted to humiliate him as much as possible. They also wanted to cause him lots of pain, so that he could always remember and fear them.
They clamp his long, dangling foreskin and nipples causing extreme and utterly cruel torture. Nicholas is beaten and his ego defeated. He has to acknowledge the superiority of the two cruel tormentors, that their level of masculinity is far above his.
Preview video: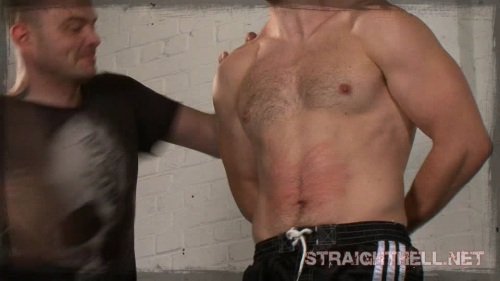 See new videos of straight men being turned into cocksuckers at StraightHell.

If you prefer your porn to be on the kinkier side, you should definitely check out StraightHell, a site devoted to hot straight guys being tormented, humiliated and treated without mercy by big mean studs!