As we have already seen in the previous video with this scene, the Keumgay sports assistant Sam got really turned on while watching Alex taking a shower after the massage. As the desire grew in him, Sam knew that he had to touch Alex's body and especially to play with his big cock, which was already starting to get hard.
Of course, Alex was very embarrassed when the muscular sports assistant approached him, but he eventually relented. Sam is a very muscular and masculine guy, with big strong arms, and also a big cock to match. You can check out that earlier video where you can see how Sam got his cock serviced while Alex was getting a massage. Sam's big cock is stroked by the second (unnamed) sports assistant who eventually shoots his load all over Alex's body.
So while Alex is chilling on the bed, our sports assistant Sam suddenly decides to reach towards Alex's hard cock and starts to suck it. Alex was taken aback a little, because it was really something quite unexpected and it was not agreed upon before the video shoot started. It was Sam's impromptu decision that he made on the spur of the moment to stroke Alex's cock and then too suck him off.
Although quite reluctant in the beginning, Alex ended up being very excited and turned on by the whole situation. And then Sam decided to get into the shower after having taken off his clothes. We can appreciate Sam's amazing muscular body, and we are sure that that was one of the decisive reasons why Alex wanted to change his mind about the situation.
And then quite unexpectedly, Alex got down on his knees, grabbed Sam's huge cock and started to suck it as if his life depended on it! You can see that these two athletic jocks definitely clicked together and there was some real chemistry between them. Even though they are straight, you can tell that they definitely enjoyed each other.
This became even more apparent when Alex offered his mouth to take care of Sam's raging hard on. Alex was quite a dedicated cocksucker and he sucked that big athletic cock persistently until Sam finally ejaculated into his mouth. It seems that Alex wanted to taste another guy's semen, and this was a perfect opportunity for that.
So now we come to the bonus part of this video, which is something that hasn't been seen or published previously.
This is the part of the shoot where things were starting to get out of control. Sam, our handsome athlete, got precise instructions from the Keumgay director that he was only supposed to give massage to Alex, without any other involvement. However, as we've already mentioned, Sam was so turned on by Alex's hot muscular body that he decided to take initiative and to suck Alex's cock.
You can tell that Alex didn't see that coming and was genuinely surprised, but eventually he got relaxed and let go. Sam took really good care of Alex's hard cock, he munched and slobbered all over it for quite some time, even though he never got an official consent from Alex for all this. Judging by Sam's strong muscular arms, we can safely say that Alex's cock was in good hands!
So Sam played with Alex's big balls and cock, savoring them and worshiping them. This was a pretty hot video with two muscular jocks who decided to take advantage of the situation and experiment with each other's hot masculine bodies.
Preview video: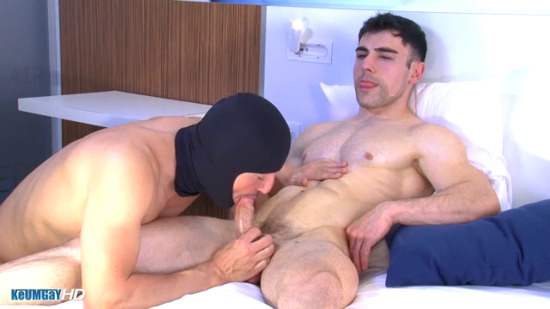 Click here to watch or download their entire video in HD quality at Keumgay.