by Ben Daniels (Admin) on Feb.13, 2015, under BaitBuddies
Tucker Forrest is back on the road in his favorite role – Bait boy for our new straight guy. Tucker has been among the most popular bait boys ever, he's quite sexy and since he's been working out in the gym lately, he's got some nice additional muscles and I must say he looks better than ever. Add to that his great big cock and the fact that he's really into straight guys and knows how to take care of them, and we've defo got a winner.
The new straight guy is Gaven Grass. This dude is pretty cocky, full of energy and he tends to be quite vocal about everything. When asked why he wanted to try his luck in porn, Gaven says rather shamelessly "I'm a fucking machine… the Energizer bunny". I had my reservations, but after watching him nail Tucker's ass, I must say I'm convinced he's right. Gaven is not too tall, but his body is quite muscular and somewhat stocky. His muscles are firm and he looks like a tank. I especially dig his strong muscular legs and that oh-so inviting butt.
The director asks Gaven whether he had any 3-ways and Gaven says yeah, he fucked some chick along with a buddy of his, and he would fuck some new chick with Tucker as well ("as long as balls don't touch"). Ouch, that was about to change drastically in the next few moments, hehe. According to the well-rehearsed recipe, the girl supposedly doesn't arrive and the boys are left with only one option – to fuck each other and earn double the amount, or go home empty handed. Oh, well…
Gaven seems to be shocked at first, then adds "I'm still straight and I love pussy!" while Tucker is already all over that nice straight cock and starts stroking it. Now it is time for Gaven to return the favor, and you can immediately tell that he's a beginner. He takes Tucker's huge cock in his hand and starts tugging it in not such a gentle way. Tucker has a master plan for this new straight guy, though, which involves some passionate kissing. Next, Tucker takes care of Gaven's 7-inch hard cock using his mouth and throat. Tucker is well-renowned as one of the best cocksuckers that ever lived on the planet, his cocksucking skills only equaled by his talent for great bottoming. Gaven can tell that the director kinda expects him to blow Tucker and starts protesting. The director doesn't care and wants to see some quality action now that Gaven has accepted the rules of the game. So, eventually, our freshman Gavin had to get on his knees and suck Tucker's dick. After the blowjob was over, Gaven told us that "it wasn't bad at all". Duh, as if we didn't know that!
The director now wants Gaven to take care of Tucker's all-too-eager ass. After some scrutinizing of Tucker's hole, Gaven reaches the conclusion that that ass is totally fuckable. Ha! As if we didn't know that already! Then Gaven adds, "for the record, I'm still fucking straight." Ok, Mister straight, now fuck that gorgeous ass! Tucker begs Gaven to be gentle and go slowly at first since Gaven's got a pretty big stick. So Gaven penetrates Tucker while he's in the doggy position and keeps plowing that ass like a madman. The director makes a suggestion that they should change the position, but Gaven liked this doggy perspective so much that he wanted to continue for some more time. Tucker has other plans in mind because his favorite position for cumming while getting fucked is to lie on his back. Gaven didn't have much mercy for Tucker's hole while he fucked him hard and deep. He said he fucked Tucker the same way he fucks his girlfriend Stephanie. Only one thing was missing – to lift Tucker's legs up in the air, so the director told him that was OK. Gaven puts Tucker's both legs on his shoulders and pounds his ass away.
Tucker is now obviously close to cumming, he moans and groans quite loudly. Now Gaven should probably slow down a little, but Tucker's hole is so tight and pleasant to stick your cock into that he just can't stop. Gaven quickly pulls out, gets rid of the condom and shoots his load all over Tucker. It seems that Tucker needed just a few more seconds to cum, but alas, Gaven pulled our a bit too early. Tucker is left with the only option to jack off until he cums. After the fucking was over, the director asked Gaven if he would do this again and Gaven told him "for money… or maybe if I was drunk." One thing is for sure, though, he does fuck like a fucking machine.
Overall, this was a very good and passionate fuck session with yet another straight dude.
Preview video:
Click here to watch their complete video in HD quality at Bait Buddies!
Bait Buddies is a pretty hot straight guy site with plenty of updates and some very hot guys indeed. There is always a "bait" dude who is bi or gay, and a straight (or sometimes "straight") dude who needs to be seduced into gay sex.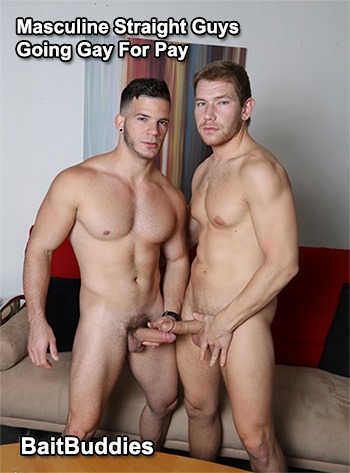 :aggressive fucking, big dick, blowjob, Gaven Grass, gay for pay, muscled, power bottom, straight men, tattoos, Tucker Forrest