by Ben Daniels (Admin) on Aug.19, 2015, under BaitBuddies
Meet Alex! He's a married Latino dude with an amazing muscular body. He keeps his head shaved and his chest is almost smooth. There are also a couple of sexy tattoos that adorn his arms and torso. He also has a beautiful bubble butt and an amazing 8-inch uncut dick!
Well, speaking of uncut cocks, Drake Jaden has confessed in this video that he's totally crazy about uncut cocks… he thinks he's getting "something extra" when he's handling an uncut dick as opposed to the cut version.
I thought that Alex was very polite and cute when he asked the casting director Caruso whether he should remove his wedding ring. Of course not! But Caruso was insistent to know whether his wife was informed about this porn thing, and Alex said – no! And he won't be telling her either.
Both guys are in pretty great shape – beefy, muscular men in their prime. I especially liked the part when these two guys are stroking their cocks together – two very nice big rods on two hot men who are sitting so close to each other… can't beat that sight.
Then there's the usual part when the boys "learn" about the missing girl… and they get a special offer to get double the initial amount providing they fuck each other. Alex protests loudly, but then the cash probably does its job and he says "I can try!"
As of that point the guys such each other's cocks and compare their size, which was, for me the highlight of the movie. Drake manages to deepthroat Alex's rather long dick. Alex defo loves this and pushes Drake's head onto his cock with his hands… probably something that he regularly does with his wife. "I must admit it feels good" says Alex. Duh! Of course it feels good when a guy sucks your dick!
Then it's Alex's turn to return the favor and at first he plays only with the tip of Drake's rather large dick, then swallows it all and manages to deepthroat it as well. Later, in an interview after the shoot, we learn from Alex that deepthroating his cock is one of his favorite things in sex. I suppose he's always wondered how it feels like to deepthroat a dick – well, I hope he liked it!
Next up, Drake impales his ass onto Alex's 8-inch wonder stick and rides it like a cowboy, wildly and passionately. Conveniently enough, we learn from Alex in that second interview later that his second favorite thing in sex is when someone rides his cock like that.  Drake's ass has become a little sore from Alex's drilling, and so the guys change position. Drake gets on his back and Alex penetrates him in that position and fucks him pretty hard. Alex had no mercy for our little puppy Drake and fucked him like a total madman! I think you'll like this part as much as I did. Drake can only moan and scream things such as "fuck me!" and Alex, being a good sport, always fulfills the wishes. Soon enough Drake shoots his load while Alex is still inside his ass, and then Alex pulls out, takes off the rubber and shoots his load all over his newly found fuck buddy!
Don't miss the interview after that where Alex opens his soul about how it felt to fuck a guy for the first time ever. I'm pretty sure that now that the ice has been broken, we're going to see Alex again.
Preview video:
Click here to watch their complete video in HD quality at Bait Buddies!
Bait Buddies is a pretty hot straight guy site with plenty of updates and some very hot guys indeed. There is always a "bait" dude who is bi or gay, and a straight (or sometimes "straight") dude who needs to be seduced into gay sex.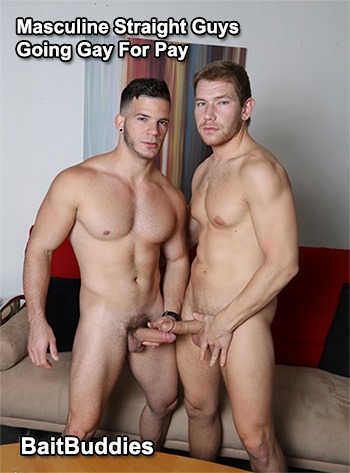 :Alex, beard, beefy, big dick, blowjob, Drake Jaden, gay for pay, hairy chest, hardcore fucking, muscled, ripped, shaved head, six pack abs, straight men, tattoos