by Ben Daniels (Admin) on Mar.16, 2016, under Bentley Race
Our old friend Bentley is in homeland Australia again, enjoying summer time there while we're still freezing our butts here in the Northern hemisphere. Being in the down under at this time of year has its perks, to be sure… such as the ability to meet with and photograph some of the hottest straight Aussie men.
Hunter Jones is one of Bentley's latest finds. This 25-year old gym instructor in Melbourne was a little worried about posing for a porn website, but the curiosity got the better of him and he decided to give it a try. Hunter is definitely a big boy – he is pretty cocky and loves to show off his hot beefy body for the camera. He doesn't care if guys or girls are going to get horny while watching his pictures and videos – he feels inner satisfaction when anyone enjoys his naked body whether that be a male or female.
Bentley put some straight porno movie on the DVD and Hunter got hard within seconds. He strokes his great thick cock and shows off his nice trimmed chest. Thank God, he didn't shave off his hairy butt, as it seems to be some kind of fashion among guys lately.
This photoshoot was such a great fun for Bentley and he told us he's looking forward to working with Hunter Jones in the future. Hunter himself definitely loved the whole photoshoot and video making process and told us he would surely be back for more.
Click here to watch his entire video in HD quality at BentleyRace!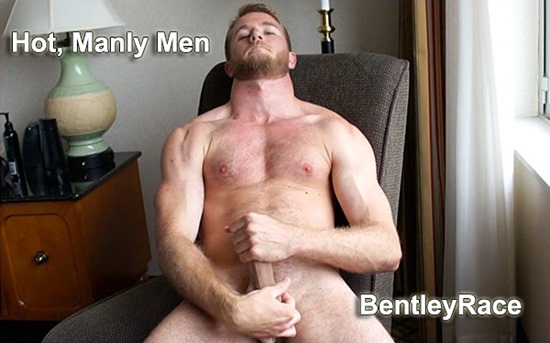 :Australian, beefy, big cock, flexing muscles, furry ass, handsome, jerking off, muscled, straight men, stroking cock, tattoos, thick cock