The text description we got from "Fratboy":
"If you wanna become a full member of our Fraternity, you're gonna have to serve your bitch duty at some point, whether you like it or not. Even the higher ranked bros didn't avoid their bitch duty. As we were chit-chatting about some wild masked pool party organized by a certain girl, one of the newly accepted fraternity members said he would like to try to take all of our cocks. Since there are no pending pledges for our fraternity to take our cocks, why not the bro who can't get off bitch duty? It's Halloween night, after all, right? He wanted to re-live his experience as a pledge, so he got the appropriate treatment!"
Ben's commentary:
Here's one of the more bizarre FraternityX videos, with all the participants wearing masks for Halloween. I see some new faces, and there are some that are pretty hot. The action is as usual – extreme hardcore, with lots of barebacking, messy cumshots, creampies, cocksucking etc. Let's see who participated in the making of this video: Cyrus Stark, Masyn Thorne, Matt Cash, Dylan Lee, and Marakai White.
Preview video: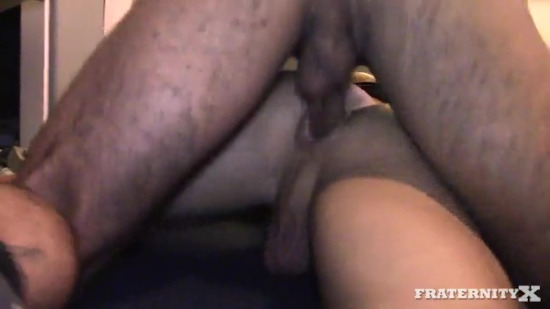 Click here to watch their entire videos in HD quality at FraternityX.
FraternityX is an amazing porn site that features a group of young, bisexual college boys who are sexually insatiable, always horny and ready to fuck a hole. They record their orgies and put them up on their website (FraternityX) and charge a small membership fee so that you can help put them through college!