by Ben Daniels (Admin) on Oct.25, 2013, under TheCastingRoom
George is hot, hairy and masculine straight guy. He used to be in the Army but now is a free man again. George is a perpetually horny man, and he likes to tell stories about his adventures with the many women that were lucky enough to cross paths with him.
When he's not chasing ladies. George likes to spend his time in a pub and tell his buddies (as well as complete strangers) about his sexual endeavors so that they become at least a little jealous. Yep, George is one braggy but entirely charming motherfucker. He can't help it, though, because women are attracted to him like to a magnet.
On the other hand, since he served in the military, he is quite accustomed to receiving orders from his superiors, and today he obeyed pretty much every order that was issued by our casting director. 
For instance, when our casting director told him to lift his legs up in the air and show his hairy ass to the cameraman, George obeyed without telling a word. He did emphasize several times that that asshole is strictly for his own use, and that doesn't involve any foreign objects, much less someone's finger or cock.
Anyway, it was such a great fun watching this hot, hairy military man stroke his rather big cock and getting horny by looking at the straight porn magazines. He shot a nice big load and the seed hit the floor with the characteristic thumping sound.
I really like this dude, he is certainly charming and masculine, and I'm looking forward to seeing more of him in the future.
Preview video:
Click here to watch his entire casting video in HD quality at The Casting Room!
The Casting Room (formerly known as First Auditions) is a great, original porn site that showcases young, cocky straight men who would like to become porn stars and make loads of cash. They think that they'll be accepted right away and be able to fuck lots of girls, but they don't know that our casting director is very strict and wants to fully inspect them during the audition. He orders them to get fully naked, show their ass, and jerk off so that we can clearly see the cumshot. Plus, we get to hear all their fetishes and what turns them on.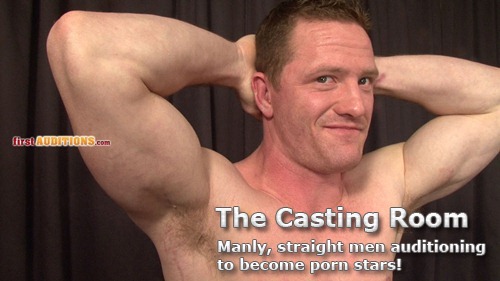 :big uncut cock, facial hair, fit body, George, hairy chest, jerking off, manly, military men, showing asshole, straight men