Victor from Beefcakehunter says that persuading Beefcake Douglas to fuck his man pussy was not one of the easiest things to accomplish… but eventually a miracle did happen. And it came just in time to mark the seventh anniversary of that site, as well as Victor's birthday. So, Douglas was almost like a great gift sent from Heaven!
At first, Douglas agreed to come for another oral scene, and for a "tentative" anal scene. But although the persuasion efforts regarding this were pretty intense, thing were not going as Victor wanted, at least in the beginning. You see, Douglas wanted to be sure that he would be able to put on a good show and make the site viewers happy. He was also concerned whether he would still be able to continue to be friends with Victor, even if the fuck scene didn't turn out as it was expected. That was to be his very first time to fuck another guy, and he wasn't sure he would be able to perform as expected. Douglas is a very humble guy and wants to be sure his fans won't be disappointed.
Well, Victor first assured Douglas that they would definitely keep being friends, and that they would still be able to enjoy a sunny afternoon with drinks at the pool, no matter the outcome of the fuck scene.
The scene with Victor on all fours, ready to receive Douglas' cock was recorded the next day, right after their excellent second oral scene. Douglas was very satisfied with his performance in that scene and left pretty happy. He planned to go to watch a fight in a local sport bar… however, as you will see, the things that happened that night would go towards a totally different direction!
That morning Douglas is lying on the bed, playing with his hard cock and looking quite ready to go to the next stage… i.e. to fuck ass. Victor gathered courage and started to be quite playful with Douglas. The magic worked pretty well. He especially liked when Victor made jokes about his "dirty socks", his feet and his previous experiences. As it turns out, that was going to be his first man-pussy experience, although he didn't explicitly admit it.
Be that as it may, the small talk and Victor's playful behavior made Douglas quite relaxed, and he became quite verbal. Douglas emphasized that he wouldn't like his nipples touched, and that he preferred kissing on the mouth. That's a kinda illogical thing to ask, but Victor promised to respect his wish. Victor decided to make the next deciding move, and to ask Douglas to toss his salad.
When the oral session was over, Douglas stood up and it was obvious he was ready to fuck ass. However, his excessive cautiousness stepped in once again, and he wanted to make sure that nobody would be disappointed if things don't go as planned. As you can clearly see in the video, Douglas' fears were completely unfounded and things turned out better than anyone expected. Especially considering the fact that it was his first time, he did extremely well. Pay attention to his face expressions and his sexy moves… such a hot, manly stud!
Douglas wanted to make right until the end, although he came by stroking his cock while Victor was busy with licking his big balls. It's not the most important thing how he came, because it was his first time… but it shows that perhaps we would be seeing Douglas again, just so that he can make sure that he gets every little detail right!
Preview video: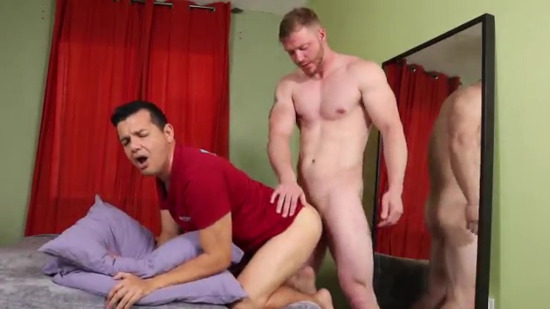 Click here to watch or download their entire video in HD quality at BeefCakeHunter.