by Ben Daniels (Admin) on Sep.18, 2015, under CMNM
Prince is having a great time while eating in his board room and reading the newspapers, when suddenly his attention is drawn towards an article where he finds out that Captain Damian has been using offensive words about the club which has obviously put a big stain on the club's reputation. Prince doesn't give a fuck if Captain Damian is in the middle of his daily training session on the field. Captain Damian is summoned to appear in Prince's office where other members of the club have gathered within minutes after having learned about the problematic news.
The board wants to check him out, but first things first – is this player still in good shape? Captain Damian is ordered to take off his shirt and then his shorts as well, until he's left buck naked there in front of all those clothed scrutinizing men. The board members think that Damian has always had amazing strong chest and arms, and whenever they see him shirtless, the other clothing items usually have to go as well. Damian's ass is sporty, with nice bubble cheeks. When Jon's face gets fully immersed into that ass, he blushes all over. But Captain Damien is far more nervous and embarrassed than any member of the board might be at the moment. The board members agree that they can't accept Captain Damian's recent behaviour and that an urine sample should be obtained from him. His ass cheeks are also pulled apart so as to take a closer look at his manhole. The Captain's embarrassment is so great that I'm pretty sure he will soon get a hardon, one way or the other. ;)
Check out these pervy men's wanton adventures in their whole videos in HD quality at CMNM.
Clothed Male / Naked Male (CMNM) is a superhot porn site where Nervous straight guys get stripped naked, groped and violated by fully clothed men.
There's nothing better than stripping straight lads completely nude, putting their bodies on display, and teaching them exactly how to submit! When they are in such a submissive position, one would be crazy not to use the opportunity and jerk them off!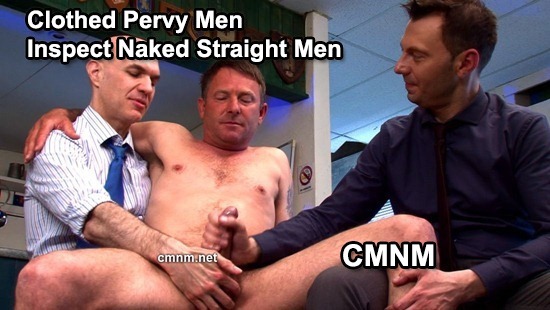 :beard, Captain Damian, Clothed Men, club board members, dominant men, inspecting ass, jon, muscled, naked men, perfect chest, Prince, soccer player, suit and tie, urine sample