by Ben Daniels (Admin) on Nov.23, 2013, under SUCKoffGUYS
Jaron Duval is a hot bearded straight guy who has never sucked cock before. He was sucked off by a dude only once (that update will be posted soon) but this was even more weird for him because he had seen how Seth can shoot really big loads of cum and he got concerned whether he'd be up to the task.
Jaron admits that he likes to watch straight porno movies where hot girls get messy facials with lots of cum. Somehow, this specific thing – messy facial – has always attracted him even though he's straight. He has secretly wished to take part in such a movie one day, but he never dreamt he would be on the receiving end and get his entire face splattered with a messy cumshot.
Seth is already very experienced with this and he felt right away that Jaron was nervous. Seth knew that the best thing to do in such a situation was to just go ahead and do the shoot as planned. So Seth just stands there and Jaron has to open his pants and take out the cock. Seth's soft dick finds its way to Jaron's mouth and the cocksucking begins. I always find it amazing how these nervous straight guys suddenly turn into expert cocksuckers once they actually start sucking dick.
As expected, Seth's dick gets hard in no time and in only a few seconds it's rock hard and ready to be orally serviced. Seth gets a bit aggressive and starts fucking Jaron's face. Seth's cock reaches the nether depths of Jaron's throat and Jaron gags from time to time. Jaron is turned on by this and starts to hungrily slobber all over Seth's hard man meat. Seth is relentless and pushes his dick deep inside Jaron's throat… after a few minutes Jaron says to Seth while looking at his dick, "I want you to cum!" He didn't have to say it twice, because Seth is an accomplished and big shooter. In just a few seconds Jaron is about to get a massive cumshot all over his face!
Seth begins to jerk off his dick and aims at Jaron's face. Jaron looked almost terrified, but eager to see how this would turn out. Jaron can sense that the load is coming, and closes his eyes. Seth starts shooting his massive load all across Jaron's face. There is a big stream of cum that was at least three feet long which hit Jaron's face.
Jaron carefully opens his eyes thinking that the biggest jizz-stream is over, but there is more to follow! Seth continues to shoot his load, squirt after squirt so that the entire Jaron's mouth and cheeks are now covered with sticky cum.
Jaron tried to open his mouth a little to remove some cum by blowing air through his mouth, but instead Seth's jizz dripped down into his mouth. Well, Jaron will have to learn the rules – if you're going to have your face plastered with a huge cumshot, you gotta know how to handle it! Jaron slowly opens his mouth and takes a bit of Seth's semen to taste it.
Jaron is still there with his face completely cum-splattered -  the cum is slowly dripping down from his chin and neck. If Jaron wasn't straight he would have simply taken Seth's entire load in his mouth and swallowed it – but there is still time to learn the craft!
Preview video:


Click here to watch their complete video in perfect HD quality at SUCKOffGUYS!
SUCKOffGUYS is a very interesting and hot amateur gay porn site that focuses on blowjobs, cum eating, cumshots, cum play and all things cum! The site owners are obviously total cum pigs and it shows. Be sure to check them out if you're into beautiful hard cocks, blowing stiff rods and big, messy cumshots.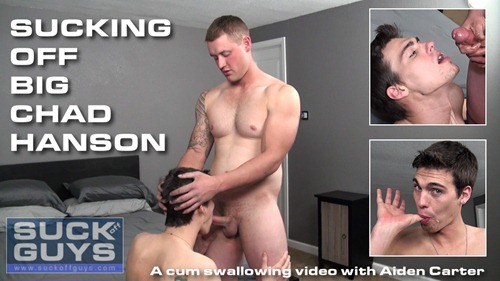 :beard, big cumshot, blowjob, facial cumshot, Jaron Duval, Serviced, straight men