Ryder is a totally straight, Arab dude who admits that from the day he had his first blowjob done by another guy, he realized that guys indeed suck cock better than girls.
So, as is the case with any horny male, Ryder couldn't help but think about re-living that feeling of hot mouth from another guy… slowly slobbering on his hard dick and swallowing it to his balls.
He came with a load of about 3 days, all that sperm accumulated in his balls and wanting to burst out. Our cocksucker immediately got to work. Trey kneels before Ryder and takes his cock out through the fly. Ryder knew he was in capable hands and just kicked back on the couch trying to focus on the pleasurable feeling of his dick being professionally sucked.
Of course, Trey deep-throats this nice straight cock, and gets himself horny because, among other things, Ryder's hairy, muscular legs are so damn sexy. Ryder feels a surge of sexual energy up his spine and remembers the first time he had such a good blowjob done by one other of our cocksuckers. Later Ryder told us he loved every minute of it!
After Ryder shot his load he told us that this was the best blowjob that he ever got, bar none!
It just gives more proof to the old saying that more straight guys are finding out… men really do suck cock better!
Short preview video: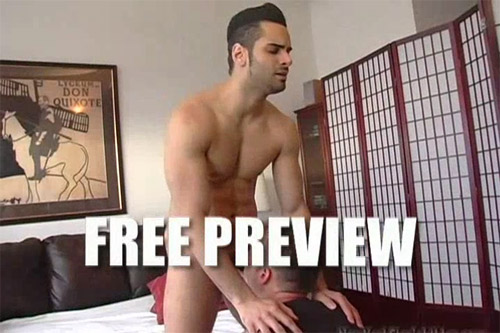 Click here to watch his entire video at New York Straight Men!

New York Straight Men is the world's biggest collection of straight men getting their blowjobs from gay dudes!