by Ben Daniels (Admin) on Sep.30, 2014, under NextDoorMale
Meet Chuck! He's a hunky, muscular country boy from the Midwest who likes to spend most of his time outdoors and engaged in various physical activities. He says he's an ordinary, simple guy and doesn't like to talk too much. He thinks actions speak louder than words, and when you look at him you'll know why. He spends a lot of time hunting, swimming or just playing in the field – anything that can involve physical work. Well, no wonder that his body is so strong and well-built. Chuck aims to please, and he had no problems whatsoever with shooting solo jerkoff scenes knowing that mostly gay guys would be watching him.
After some hot initial shoots we did with Chuck outdoors while he was still wearing his wife beater, he goes inside and slowly gets rid of the rest of his clothes. Oh, one more thing – Chuck says he has the weirdest fetish for expensive underwear! That's the only fetish he has but whenever he sees some good shorts or undies he can't resist buying them, no matter the cost.
I combined two of his appearances here: his first appearance and his encore jerkoff session – both are smoking hot! In the first one he slowly rubs his cock through his underwear until it grows hard and big. His cock is very nice and decent size – pretty thick too! He slowly strokes it while touching his ripped chest and arms. Chuck is getting really horny and he starts stroking his cock very fast… but then slows down again because he doesn't want to cum too soon. He also slaps his ass and shows us how beautiful and bubbly it is. It's certainly a great asset. Then he puts his cock between his legs and we can notice there's a certain amount of precum there already on the tip of his cockhead. Then he goes back to the normal position and strokes it faster until he shoots his load – it was a very nice explosive cumshot.
In the second scene we meet Chuck again and he's in a great mood! Obviously his first appearance hasn't gone unnoticed and he's already got some very serious fans. He says that his first appearance has opened him many doors as far as modeling is concerned.
Chuck tells us about his dietary habits, that he takes great care about his nutrition because it is as important as his workout sessions. You will certainly notice that he comes across as a very laid-back and easygoing dude. He's most certainly not stuck up in any way, and he's got a great sense of humor – a typical next door dude!
One can't help noticing that his shoulders and arms have grown somewhat since the last shoot. Again, he shows us his today's choice of underwear – a festive rainbow striped pair that is reminiscent of Juicy Fruit. How can you not love a guy with such a great fetish! The shorts must go, however, and as soon as he gets rid of them we can again feast our eyes on his fabulous thick cock which is already going up and getting hard. He rubs it with his hands and begins to stroke it. In a few seconds time his cock is fully erect and standing upright as a rocket on the launch pad.
Chuck bends over a bench so that we can have a better look of his hot ass in the mirror. He plays with his ass cheeks and tentatively explores the opening of his manhole with his fingers. Then he stands up and continues to stroke his weapon faster. He is standing in front of the mirror and after some time he shoots a nice thick load straight into the mirror! Some of his jizz ends up on the floor making a pretty nice spermy mess.
Chuck's second appearance:
Preview videos:


Click here to download his entire videos in perfect HD quality from Next Door Male!
Next Door Male is a porn site that features young masculine and usually straight or bisexual men who have that typical "next door guy look". If you like your men natural, buffed up, hung and manly then this is the site for ya!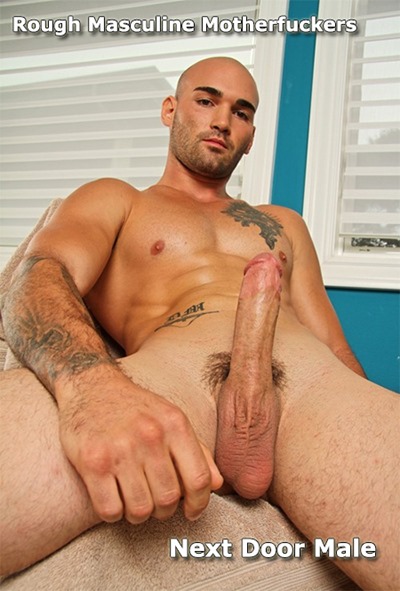 :beard, Big Arms, Bodybuilder, Chuck, country boy, hairy ass, handsome, jerking off, manly men, muscles, straight men, thick cock