Today we are going to take a closer look at three hot straight guys from England: Carter Lewis, Lewis Grant and Jamie Sherringham.
Muscular hung stud and gymnast Carter Lewis has appeared on Englishlads quite a few times, and he was always the top, fucking willing and satisfied asses of lucky bottoms. For example, last time he gave Lewis Grant such a great fucking that Lewis felt obliged to return the favor!
The two guys don't waste any time and get straight to the action, kissing passionately and caressing each other's hot hard masculine bodies. Both guys get fully erect, and you can see their stiff dicks protruding from their boxer shorts.
Soon enough we see them exchanging blowjobs, feasting on each other's hard uncut cocks. You can tell that they had a lot of fun together and enjoyed each other a lot! There was definite chemistry between these two guys and they were both so laid-back.
Carter positions his ass and spreads his butt cheeks, and then Lewis uses his fingers to probe that very tight hairless asshole. Then he shoves his solid cock deep inside Carter's ass, and starts fucking our muscular top! This was the very first time for Carter Lewis to receive a cock in his ass!
Lewis pounds Carter's ass in several different positions, and then he pulls out and shoots his load all over Carter's pert bum. Not too long after that, Carter also shoots his load, and we see both guys sprayed with a lot of sticky sperm! Of course, that means it's time for them to head straight to the shower to wash off all that sticky mess. And even there in the shower they still couldn't keep their hands off of one another!
*****
This was the first appearance of Jamie Sherringham, brother of Isaac Sherringham from Englishlads' sister site Fityoungmen. Jamie is a lean, muscular and very laid-back straight dude who is very keen on showing off for the camera. He was not shy at all to show off his muscles, take off his clothes, and have some fun with his huge uncut cock!
And it's no wonder that he likes to show off his cock so much because it's such a gorgeous huge uncut cock! Jamie allowed director Nick to play a little with his cock and to stroke it until he achieved a full throbbing erection. Then he started to walk around the house with his massive erection bouncing up up and down! There are some very nice shots where the camera catches his body under perfect lighting while he's at the top of the stairs. There, we can appreciate his hard muscular body and his gorgeous six pack abs.
Jamie then returns to the sofa, gets comfortable and starts to stroke his cock rather vigorously. Soon enough he shoots a massive load all over his abs! It's time to head straight to the shower to wash off all that sticky mess! That was a really great shoot shoot, Jamie! Hope to see you soon enough in some new adventures!
Carter Lewis & Lewis Grant
Jamie Sherringham
Preview videos: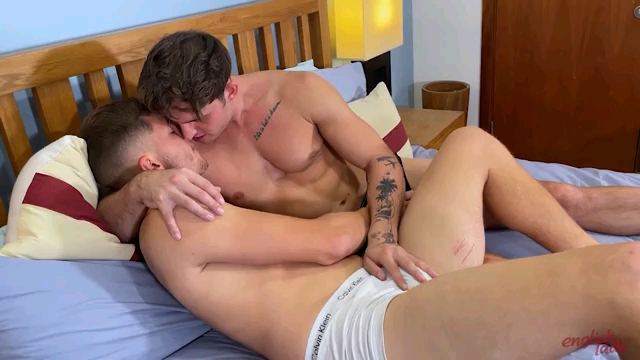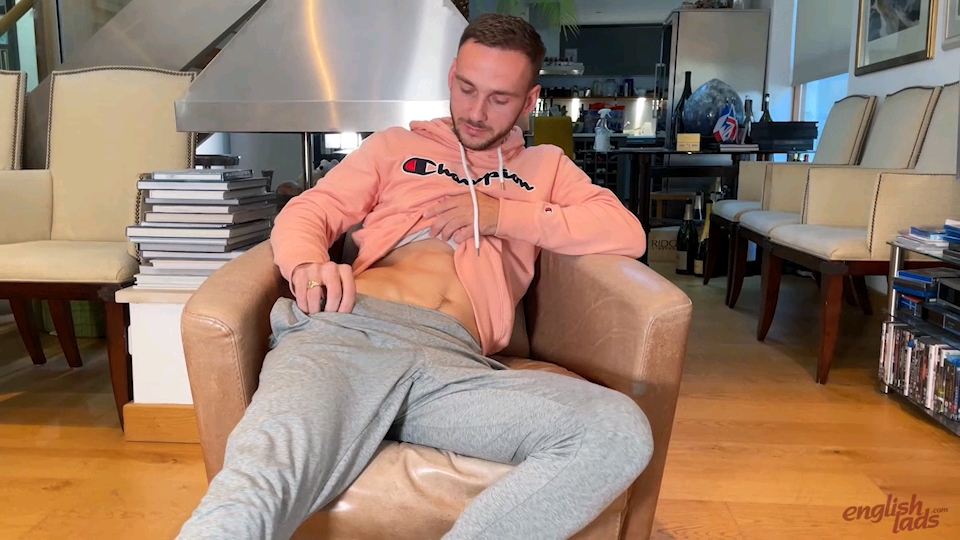 Click here to download their entire videos in perfect HD quality at EnglishLads!
English Lads is a fantastic site with loads of very manly, straight lads from England who love to show off and jerk off for the camera.  The guys that appear here are usually not found on any other site, so the content is quite exclusive. All movies are in HD quality.