by Ben Daniels (Admin) on Mar.04, 2014, under BreederFuckers
Hot masculine straight man George suddenly finds himself in a desperate situation. He's bound and immobile and almost all of his clothes have been stripped away from him. He realizes he is at the mercy of two mean pervy thugs.
The pervy men are very fond of groping their prey, and they carefully examine his manly hairy body from all angles. They also grope and examine his cock and balls. George's pants seem to irritate the pervy men, so they cut it away and leave George in his natural naked condition.
George doesn't want to get horny and hard, but all that cock stroking and teasing has made his cock stiff and hard as rock. The pervy men continue to stroke him and then bind his cock. These nasty men make it abundantly clear to George that the only way to set himself free would be to lick their hairy asses with his tongue. George is forced to push his tongue deep into his captor's assholes. Master Dave even sits on George's face, and George is forced to endure this ordeal with smelly men's arses shoved into his face.
After Master Dave has been properly taken care of, Master Dave gives George his cock and orders him to suck it like a real cocksucker. The cruel Masters tell George that he must keep looking at them while he's servicing their dicks.
Sucking other men's cocks is a nice tutorial in obedience for these arrogant straight guys, but it's not the ultimate method for the training. Namely, fucking proved to be indispensible in that regard and the Masters now fuck George's hole, so that both his mouth and ass are filled with erect cocks.
Since he's bound to the table and immobile, George can't do much to stop these things from happening. The cruel Masters relentlessly fuck his mouth and ass, and when the time comes they shoot their loads into his mouth and ass, respectively. George is forced to eat their seed without saying a word.
George's ass is sprinkled and baptized with fresh cum, too. It won't be long before this once arrogant straight man begins to beg for more cocks.
Preview video:


Check out the newest videos with arrogant straight men being turned into obedient cocksuckers at Breeder Fuckers!
If you prefer your porn to be on the kinkier side, you should definitely check out Breeder Fuckers (formerly known as Straight Hell). Breeder Fuckers is a premium fetish site devoted to hot straight guys being tormented, humiliated and treated without mercy by big, mean & aggressive studs!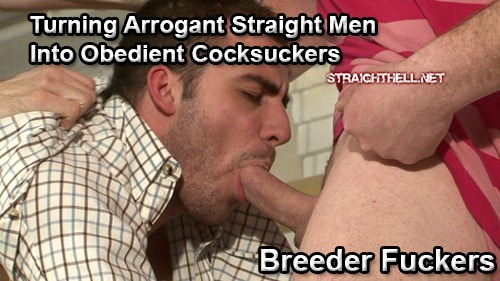 :arrogant, BDSM, beard, bound, cumshots, fucking, fucking mouth, George, inspected, Master Adrian, Master Dave, Punished