At Baitbuddies we have a brand new straight guy, and I can tell you right away that he's smoking hot! Isaac is the sexy straight newcomer, and what I especially like about him is that he's a unique mixture of decidedly masculine looks and dreamy temperament. Like his partner in this video, Isaac also has quite a bit of tattoos on his strong muscular body, but not as many as Sean Duran. Isaac's cock is a great example of "beer can cock" – it's thick and girthy and always rock hard! We are definitely in love (lust?) about Isaac's muscles and his super hard cock!
Very sexy Sean Duran was away for some time, but he's back now and his body looks better than ever. Hard muscles, big ass and that thick dick deserves a special mention! Sean is very keen on tattoos, so he put some new tattoos on his smooth, muscular body. Director Caruso thought that it would be a nice idea to pair him with some inked straight guy who hadn't had experience with men. Of course, Sean agreed because, as he says himself, he likes all kinds of men, be them gay, bi or straight.
Now there's the usual test that these guys must pass through. There's some pussy porn playing on the TV and if the guys can get hard without problems, then the director knows he can bring the girl. However, there's a point where Caruso announces that the girl that was expected to come is not going to make it today. Nevertheless, if both guys agree to have sex with each other, they are going to get double the money for that. Isaac seems to be unpleasantly surprised and asks Sean if he is into that kind of shit. Sean replies that he's in dire need of money, and that he'll do anything that will pay the bills. Isaac likes this answer, and both guys agree to give it a shot!
Preview video: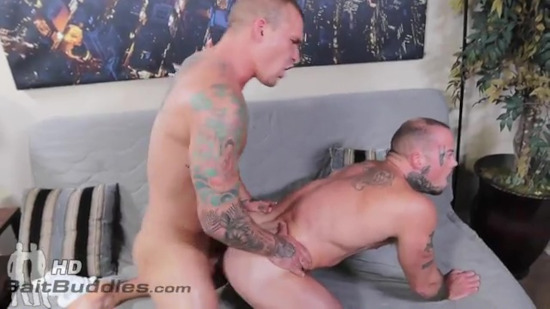 Click here to watch their complete video in HD quality at Bait Buddies!
Bait Buddies is a pretty hot straight guy site with plenty of updates and some very hot guys indeed. There is always a "bait" dude who is bi or gay, and a straight (or sometimes "straight") dude who needs to be seduced into gay sex.